Info!
UPDATED 1 Sept: The EI library in London is temporarily closed to the public, as a precautionary measure in light of the ongoing COVID-19 situation. The Knowledge Service will still be answering email queries via email , or via live chats during working hours (09:15-17:00 GMT). Our e-library is always open for members here: eLibrary , for full-text access to over 200 e-books and millions of articles. Thank you for your patience.
Celebrating one-year of reporting on the industry's progress toward net zero
New Energy World

embraces the whole energy industry as it connects and converges to address the decarbonisation challenge. It covers progress being made across the industry, from the dynamics under way to reduce emissions in oil and gas, through improvements to the efficiency of energy conversion and use, to cutting-edge initiatives in renewable and low carbon technologies.
Transition technology: no time for unicorns
8/3/2023
10 min read
Photo: Oliver Dixon Photography, for the Energy Institute
Photo: Oliver Dixon Photography, for the Energy Institute
Day two of International Energy Week 2023 focused on technology opportunities in the energy transition, with an emphasis on innovation and changing business models. The presenters felt there was no time for 'unicorns' (breakthrough technologies) as opposed to the incremental development of established solutions on the road to net zero. New Energy World's Brian Davis reports.
One of the most innovative renewable energy champions, Greg Jackson, Founder and Chief Executive of Octopus Energy, kicked off the day with a fascinating discussion with Mohammed Jameel Al Ramahi, CEO of Masdar. Al Ramahi emphasised how the green initiative was taken by the United Arab Emirates' President back in 2006 for 7% of the Abu Dhabi energy mix to come from renewables by 2020. This was an ambitious goal which 'totally shocked the power community, as we started in the oil and gas business', he said. Nevertheless, turning Masdar into a renewable energy company 'was one of the best choices after marrying my wife!', he quipped.
Today Masdar is focused on green renewable energy in 40 countries, covering onshore wind, offshore wind and solar PV, as well as becoming a strategic investor in a geothermal project in Jakarta. Masdar's target is 100 GW of renewables by 2030.
Al Ramahi emphasised the importance of partnership, and said: 'It's part of our DNA, with projects round the world.' He sees the UK as a global hub for offshore wind developments and announced a £1bn investment there to accelerate battery storage solutions.
The Masdar CEO considered that: 'One of the biggest surprises is the emerging idea that renewables are not a threat to energy security but may actually be a solution.' He remarked that his President had said: 'We will celebrate when we export our last barrel of oil!' Now there's a controversial thought from a leading Middle East oil and gas producer.
Octopus Energy's Jackson was quick to take up the theme. With COP28 looming, he suggested there is a parallel with the Western press' treatment of the climate conference later this year in Abu Dhabi and their criticism of Qatar prior to the World Cup. He mentioned that: 'By the end, [Qatar] demonstrated that the World Cup was an outstanding event.' He has similar expectations for COP28.
Al Ramahi looked forward to welcoming the world to Dubai for COP28 'as part of this journey of our nation's commitment to create new technologies and clean energy'. Later that day, Al Ramahi was awarded an Honorary Energy Institute Fellowship 'for his contribution to accelerating a just energy transition in the Middle East and globally'.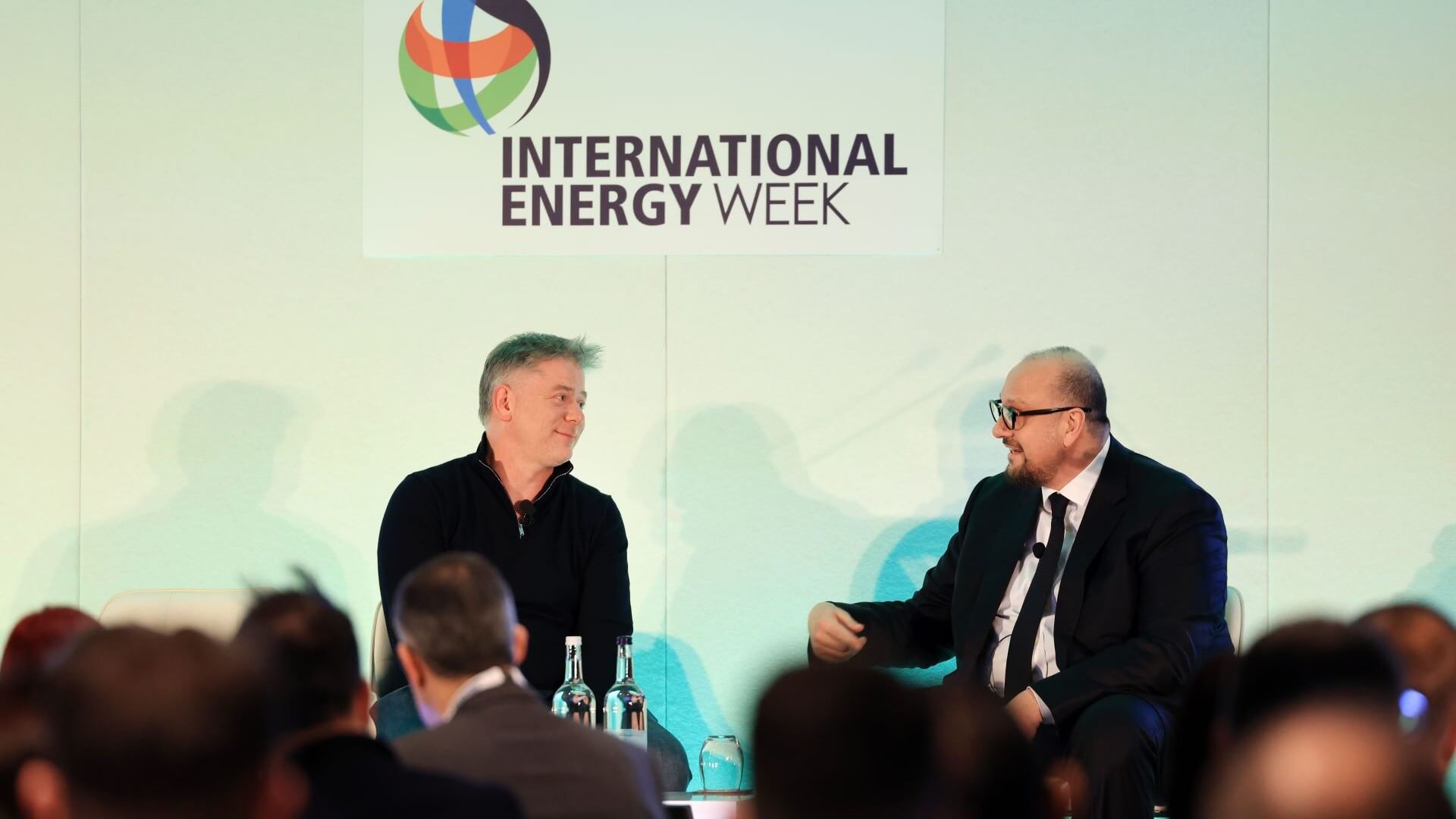 Octopus Chief Executive Greg Jackson (left) had a lively discussion with Mohamed Jameel Al Ramahi, CEO Masdar (right)
Photo: Oliver Dixon Photography, for the Energy Institute
The big energy transition
The following sessions analysed the major challenges required to accelerate the transition and suggestions on how they can be resolved.
Mike Hemsley, Deputy Director of the Energy Transitions Commission, sees the energy transition 'firmly in progress'. Although he expressed concerns about the dominance of China, which accounts for 50% of all renewables built. He noted that every year China is building in excess of 70 GW of wind and over 100 GW of solar power. Since President Xi Jinping has set a target of 1,200 GW total renewables by 2030, 'even if they just keep to the current build rates, they will exceed that target by 50%,' he said.
Hemsley and others recognised the importance of the Inflation Reduction Act (IRA) in the US, incentivising a large range of renewables, electric vehicles (EVs), hydrogen and carbon capture and storage (CCS) projects, which will impact the hard-to-abate industries.
There was also recognition that Russia's invasion of Ukraine last year 'had a really formidable response from Europe to accelerate its decarbonisation objectives, with the aim of getting off gas'. Hemsley anticipates reduction of gas demand in Europe of about 15% by 2030.
Although the energy transition is 'really positive' in three geographies – China, the US and the European Union (EU) – he was concerned that the picture is 'not so rosy' outside those regions. India, for example, is building about half the amount of solar power of the EU, despite a population of 1 billion people; and merely 4 GW/y of wind power. Therefore, 'there is a real risk that although three markets are accelerating towards net zero, others are being left out and need to pick up the pace,' he said.
Looking at climate change, Hemsley noted that only a few years ago the world was heading for 3-4°C of warming. 'Now we think it's on track for 2°C, but certainly way off 1.5°C. And there's a massive gulf in ambition, which we need to all focus on to bridge that,' he warned.
The need to accelerate the energy transition was a common theme. 'I think the pace of the energy transition could be a lot faster,' said Sayma Cox, CEO of North Sea Midstream Partners, which is looking to invest in new transport infrastructure for CCS. She had a strong wish list. 'We are looking for the legislation, what subsidies could be [provided] and assistance from the government to help on the pace of the energy transition.'
Cox feared that we may miss out on being 'first in line' with CCS despite having access to enormous caverns for storage in the North Sea. She criticised the government for typically taking a short-term approach 'when it should be looking at a more long-term path than it has done to date'.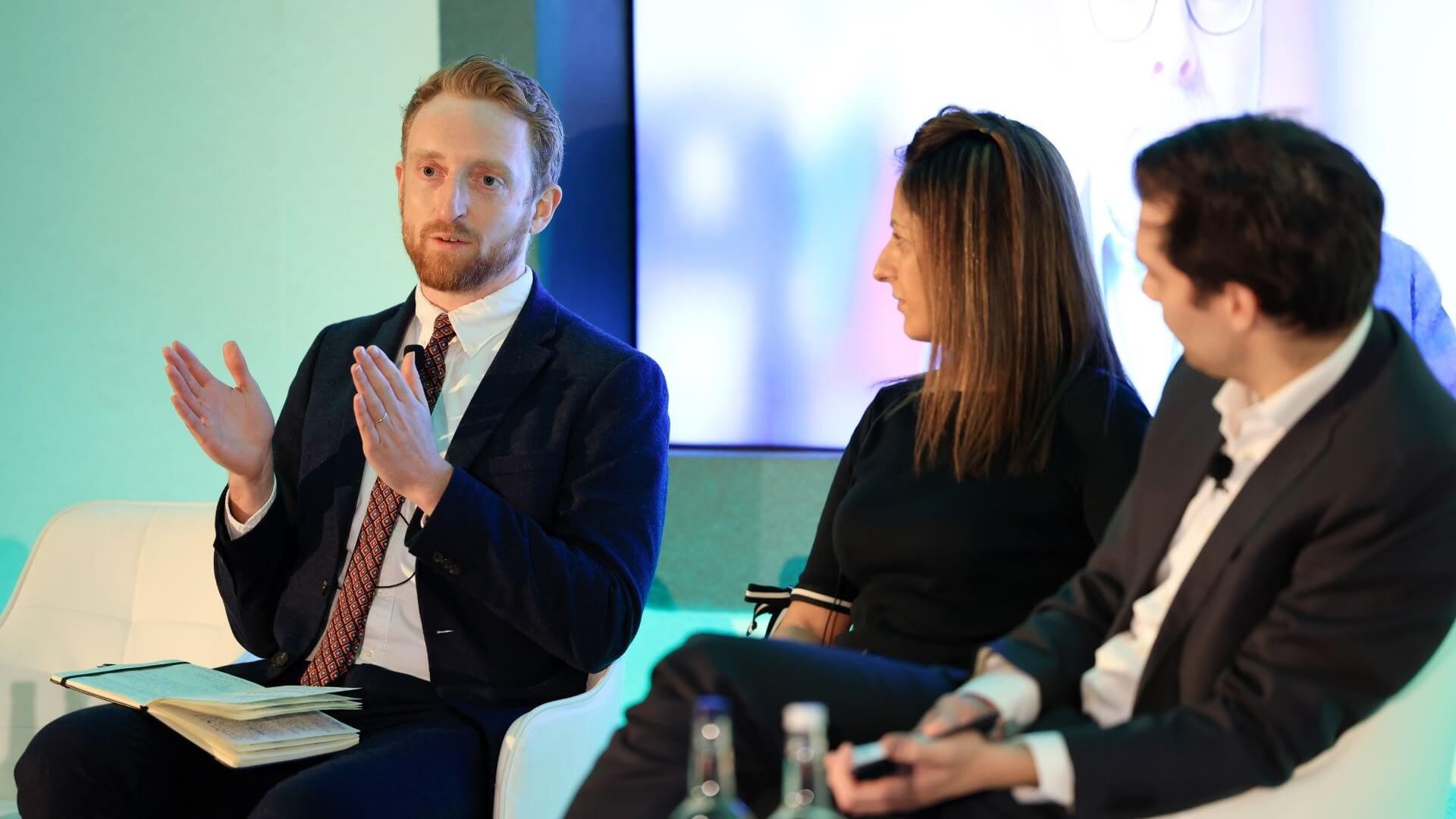 We can suddenly see that the energy transition is accelerating, remarked Mike Hemsley (left), Deputy Director, Energy Transitions Commission, on panel with Sayma Cox, CEO, NSMP; Chris Therkelsen, Partner, McKinsey; and Professor Rob Gross FEI, Director, UKERC (online)
Photo: Oliver Dixon Photography, for the Energy Institute
Professor Rob Gross FEI, Director of UKERC took up the baton. 'We've been going great guns on electricity generation by renewables for about 20 years – particularly with offshore wind – but it's been almost by accident! Indeed, we nearly gave up in this area about 2010 or so because it was very expensive.' He explained that the breakthrough was Contracts for Difference (CfD) which helped de-risk renewables investment and gives a stable revenue stream.
However, he was anxious that: 'We've yet to come up with a decent policy that will help insulate one of the oldest building stocks [the UK] in the world. And we've had rather mixed success in some other sectors.' He also sees the gamechanger as President Biden's IRA. He expressed concern that the US act 'may be horribly protectionist – acting like a tractor beam on investment that would otherwise be flowing towards the EU and UK'.
Although Gross recognised that renewables have got cheaper, he believes that not all of the transition can be subsidy-free or policy-free 'because the market requirements are quite different'. He called for prioritisation and long-term political commitment, especially in areas such as the hydrogen roll-out and long-duration storage of emissions.
Delays to planning and permitting were also a major area of concern. Hemsley said that according to recent UKERC analysis, the development times of wind and solar in some markets could be halved. There is also the issue of grid constraints, where he suggests grids should be built in tandem. Alarmingly, Hemsley claimed that 'nowhere, apart from China, has a strategy for grid infrastructure'. Energy transition supply chains also need attention, he said, with a need for alternative supply chains for minerals like copper, and rare metals which are concentrated in China.
Innovation is key in the energy transition. Gross maintained that there here will be huge roll-out of existing technologies. 'However, with the exception of wind, solar and to a certain extent batteries for EVs, we are still at the absolute infancy in deployment of hydrogen or CCS or long-duration storage,' he noted.
'It is important that we don't believe in unicorns… and aren't looking for some saviour technologies,' he said. But research and development is still vital: 'As Director of UKERC, I absolutely believe in spending more money on R&D… We should be looking at some over-the-horizon technologies that can be achieved to meet the 2050 target.'
'With the exception of wind, solar and to a certain extent batteries for EVs, we are still at the absolute infancy in deployment of hydrogen or CCS or long-duration storage.' – Professor Rob Gross, Director of UKERC
A new definition
There was also re-framing of the definition of 'hard-to-abate' sectors. Nancy Gillis, Programme Head of the Climate Action and First Movers Coalition for the World Economic Forum, suggested that we should talk about 'economically essential' sectors rather than 'hard to abate', when it comes to reducing carbon intensity in steel, chemicals, cement and other industrial sectors.
Here again she said: 'It's not a matter of unicorns. We are focusing on technologies that are cutting edge not bleeding edge' – like using inert anodes for aluminium, electrolysis, CCS, and hydrogen. Gillis insisted: 'The 2030 deadline is essential. If we don't start doing some of this transformative decarbonisation now, the 2040s and 2050s won't matter.'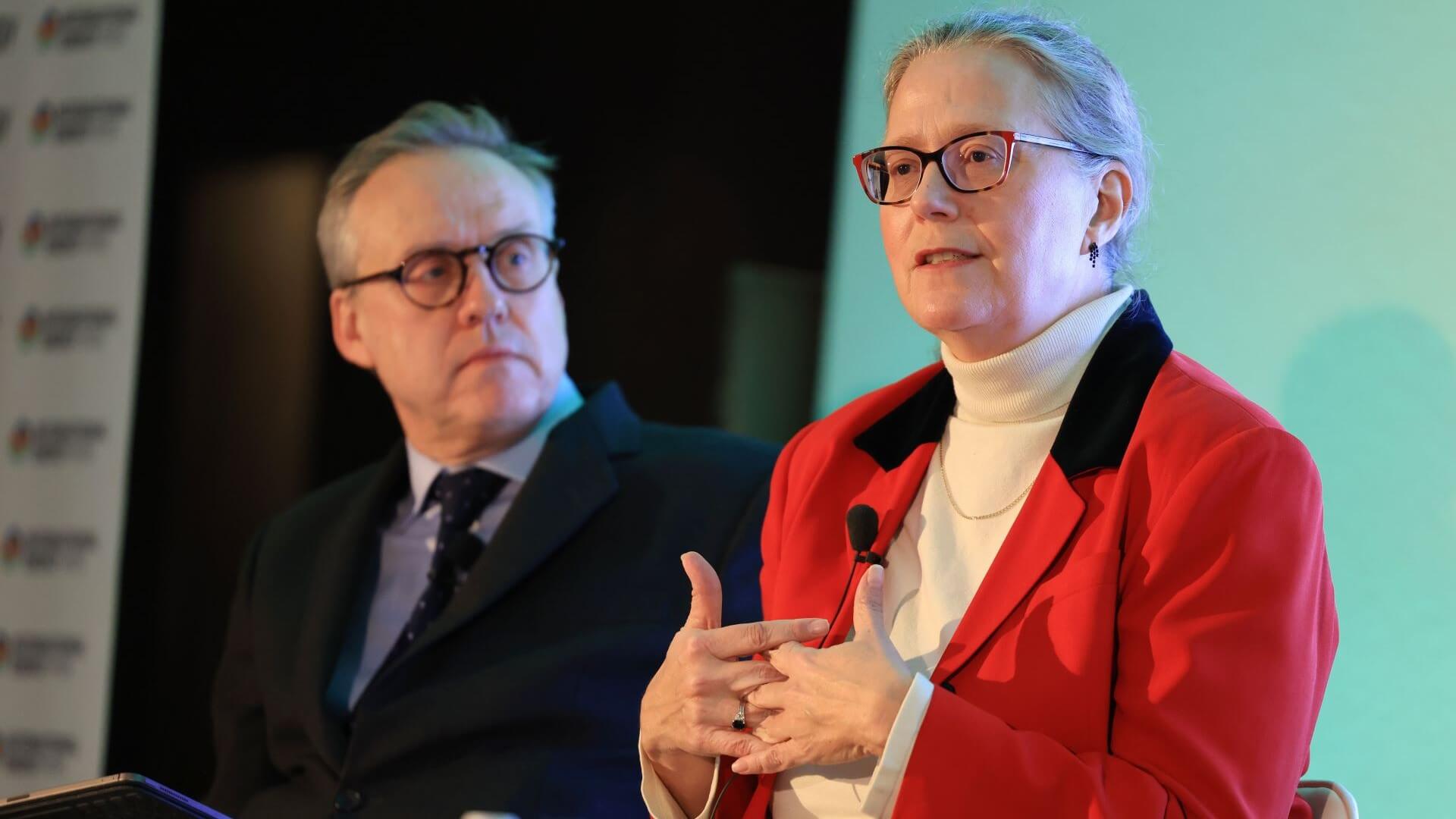 Changing definition – Nancy Gillis, Programme Head, Climate Action and First Movers Coalition, World Economic Forum, suggested changing the definition of 'hard-to-abate' industries to 'economically essential' when it comes to reducing emissions, as moderator Dominic Martin, Vice President, Government & Regulatory Affairs, Equinor, looked on
Photo: Oliver Dixon Photography, for the Energy Institute
Direct air capture
Direct air capture (DAC) has always been considered to be one of those elusive technologies, 'with great promise but always a bit out of reach', said Dominic Martin of Equinor.
Contrary to that opinion, Amy Ruddock, Vice President EMEA of Carbon Engineering, argued that DAC and sequestration is a cost-effective solution for 'economically essential' sectors to disperse emissions. The company has run a pilot plant in Sqamish, outside Vancouver, Canada, since 2015, and has set up an Innovation Centre for commercial projects with Oxy's low carbon venture 1PointFive. Construction has started on a first commercial DAC plant in Texas, due to come onstream in 2024 to capture 1mn t/y of atmospheric CO2 at full capacity. And Oxy plans to deploy 100 of these plants round the world by 2035.
Powering progress
Hugues Bourgoyne, Executive Vice President of Environment and Asset Management at Shell, emphasised the company's Powering Progress programme and said good progress is being made on Scope 1 and 2 emissions targeted to be cut by 50% by 2030 compared to a 2016 baseline. He mentioned that the new Vito deepwater production platform in the Gulf of Mexico is targeted to have an 80% smaller carbon footprint than a conventional design.
The group has made some significant initiatives, with the Quest CCS project in Alberta, Canada, and the Gorgon joint venture in Australia, which together sequestered about 7mn tonnes of CO2. Bourgoyne said the next step will be 'carbon capture as a service'. Shell also took a final investment decision (FID) on the Hydrogen One plant in the Netherlands, which promises to be the world's largest hydrogen plant when it becomes operational in 2025. In India, Shell has acquired a company called Spring which doubles its solar generation capacity, and also acquired Nature Energy in Denmark, which is the largest producer of biomass in Europe.
Bourgoyne admits that some of the emission reduction initiatives were 'low hanging fruit' and added: 'But I think we are coming to a point where it is more difficult and new sources of energy will come into play.'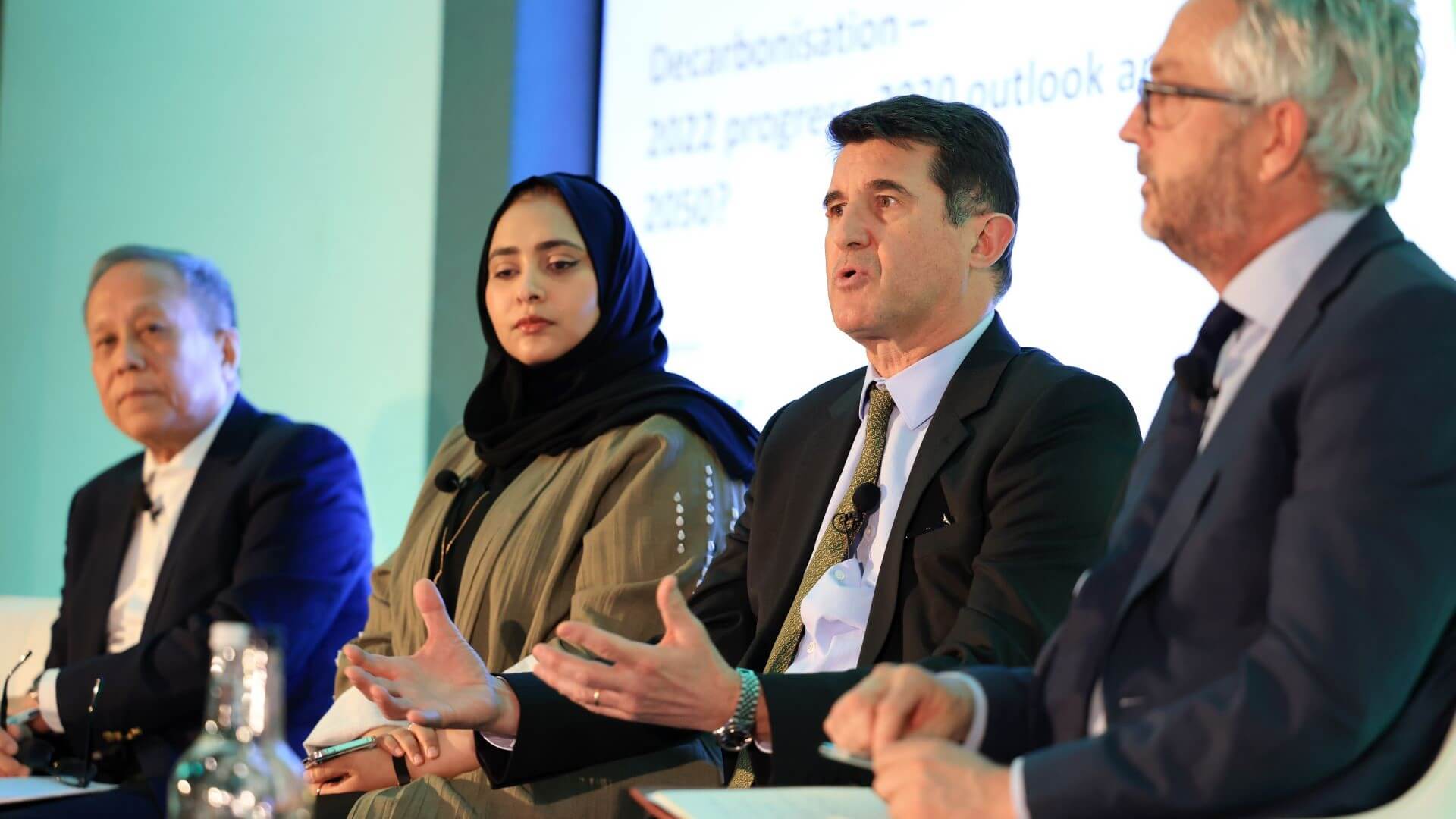 Decarbonisation progress in four global regions with (left to right) Professor Ir Dr Mohammed Shahir Liew, Deputy Vice Chancellor, Universiti Teknologi, Petronas; Samar Al Hameedi, Vice President Sustainability, ADNOC; Hugues Bourgoyne, EVP Safety, Environment & Asset Management, Shell; and Bjørn Otto Sverdrup, Chairman of the Executive Committee, OGCI
Photo: Oliver Dixon Photography, for the Energy Institute
Solar powers on
Anne Davies of Lightsource BP, a renewable energy company with operations in 19 countries including the UK, US, Europe, Australia and south-east Asia, reckoned the company is sitting on 50 GW of opportunity and is 'developing at pace and scale'. But she maintained: 'We are also thinking about integration, storage and how we take this to the next level.'
'When I started, there was 20% conversion efficiency per [solar] panel. By 2030 that will be 30%. We always underestimate the rate of innovation. I don't think scale or materials technology is going to be the barrier. The big challenges will be about creativity and revenue structures for large-scale operations and balancing to allow more projects to enter the grid,' she said.
Grid constraints are a major area of concern throughout the renewables sector. Davies remarked: 'Ten-year grid queues are not the answer. We need different answers and opportunities to allow renewables to penetrate.' As well as new thinking on permitting, she said: 'There is still a lot of misinformation about land solar use and what happens to the land you build solar on. Sustainability is a core value for our company.'
'The challenge is on staffing and permitting – wherever we are in the world it takes such a long time to get to the critical point,' she complained.
Most importantly, she argued that: 'The barriers need to come down to allow the next phase of growth. We can break records year-on-year to reach 1,000 TWh solar but it needs to be 8,000 TWh if we are to have any chance to hit net zero. It's not just about technology, it's these other barriers we need to unlock.'
Hydrogen – a hot debate
Which brings us to the hydrogen debate. What will be the role of hydrogen towards 2050?
'A lot of what is happening in hydrogen is pretty small scale',' said Martin Lambert, Head of Hydrogen Research at the Oxford Institute for Energy Studies. 'Hydrogen won't do all the things some people claim it could do, so you need to focus where it can play a role. Hydrogen could fill the gaps where you can't electrify something – that's a fundamental principle.'
Today, 70–90mn tonnes of hydrogen is being used in refineries, ammonia plants and petrochemicals facilities around the world. European hydrogen demand is about 10mn tonnes. So, he calculated that: 'If you wanted to replace that with green hydrogen you'd need about 500 TWh of renewable power.' Lambert added that this is roughly the amount of TWh that Europe produced in 2020. 'So, there's a very long way to go. Doing some CCS could probably help too, with a bit of blue hydrogen to kickstart things as well', he remarked.
He suggested that going green should focus on the existing 'carbon intensive' hydrogen sector first, then target steelmaking, primarily using scrap and electric arc furnaces 'with hydrogen having a role to reach the last mile of decarbonisation'. Although forecasts of needing at least 600,000–1mn tonnes of hydrogen were considered optimistic.
Dr Graham Cooley, former CEO of ITM Power, stressed that the energy transition only uses energy in two forms – as electrons or molecules – 'and the only zero carbon energy gas is hydrogen'. He sees decarbonising industrial hydrogen as a priority and emphasised the need for ammonia as a fuel and methanol as a building block for chemicals.
About 70mn t/y of industrial hydrogen is made by reforming natural gas today, with 55% for ammonia. Since refineries have to make 16% of their products renewably by 2030 under the Renewable Energy Directive, that's going to need 600 GW of electrolysis. 'This will be an incredible challenge even simply scaling to that for industrial hydrogen,' he said.
Marco Alverà , CEO of TES Hydrogen, promoted the benefits of ENG (electric natural gas) using the old Sabatier process 'as hydrogen is very difficult to handle'. His company had invested about $1bn in and around hydrogen transport use, production and storage. 'Luckily, these worked out well,' he said. But he felt it best to leave this 'difficult to handle' molecule out of a range of options. 'I would leave hydrogen out of heating, out of cars, and even out of light vehicles. However, there is a big role for hydrogen to play in simply moving electricity around.' He proposed that ENG could be brought to Europe at around €100–120/MWh, for conversion back into power at a premium.
But there were also counter arguments.
'A while ago I was called a "hydrogen denier",' remarked consultant Michael Liebreich, 'which I found simultaneously offensive and funny.' He drew attention to the forecasts by McKinsey, on behalf of the Hydrogen Council, that sees hydrogen rising from 90mn t/y to 660mn t/y. 'I suspect the number we'll actually see in 2050/2060 will be around 200–300mn t/y. We'll be using more hydrogen, not just replacing the existing grey or black hydrogen from gas and coal but there are other use cases,' ie as some hydrogen-based fuels and for long duration storage to provide resilience for a heavily electrified economy.
He recognised that: 'We will need far more than 50% electrification if we are going to get to net zero. It's well established that if you can electrify something, you should. But it's a trope to suggest if its high temperature it must remain a gas', and cited arc welding, radiative heating and plasma, or using heated bricks as storable, bufferable heat for making cement.
Liebreich went on to describe five ways to decarbonise steel including direct electric reduction, TRL's titanium stabilised low-carbon steel, CCS, use of biochar and buying offsets. 'I'm not saying which is better. But when I hear "jump for hydrogen" I think we are doing ourselves a great disservice. Because very often hydrogen is the most expensive answer of all the ones you might look at.'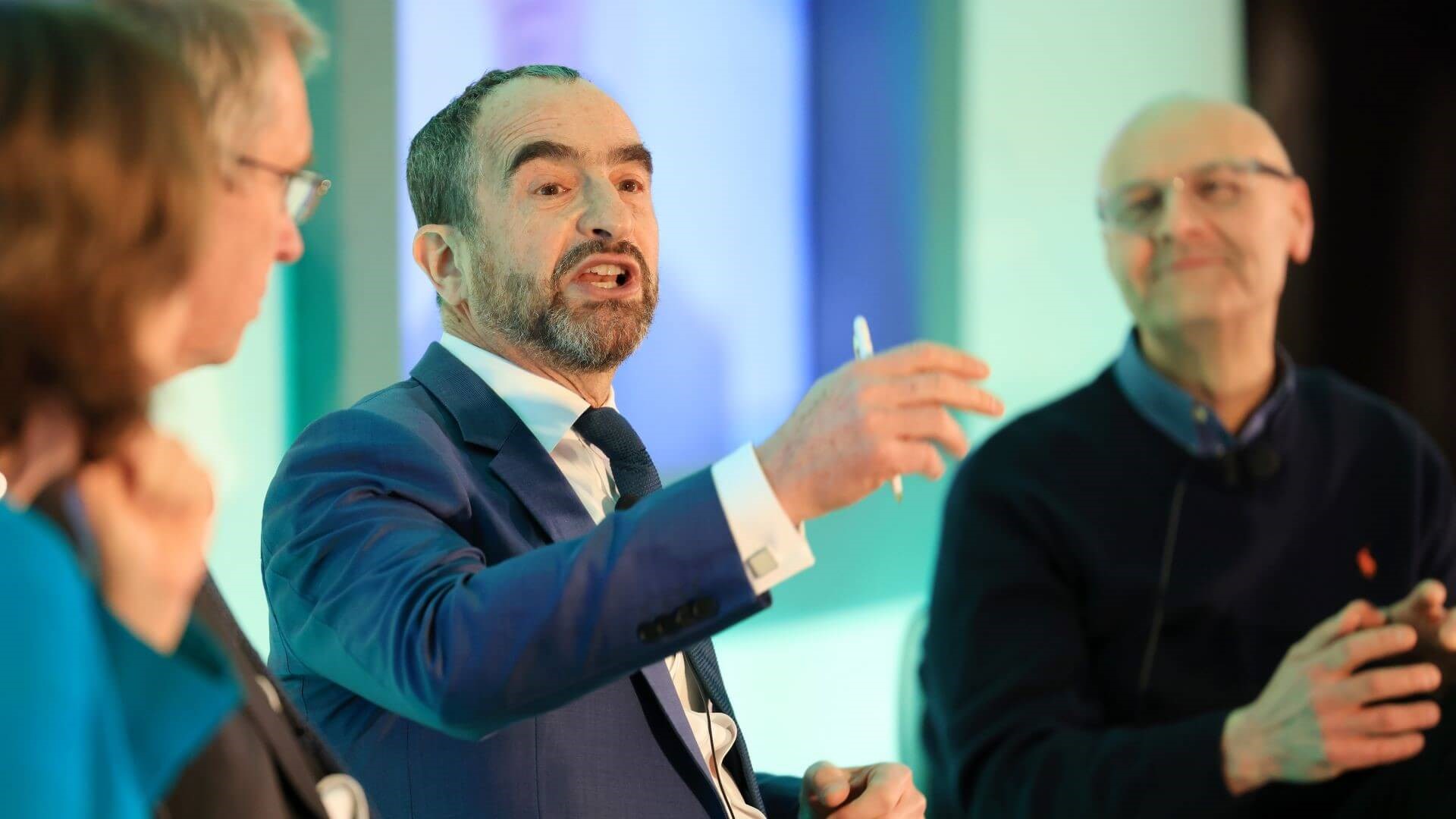 Hot debate as Michael Liebreich forecast 'homeopathic levels' of hydrogen production to the panel including Ieda Gomes, Senior Advisor, FGV Energia; Marco Alvera, CEO TES Hydrogen; Dr Graham Cooley, Former CEO, ITM Power; and Martin Lambert, Head of H2 Oxford Institute
Photo: Oliver Dixon Photography, for the Energy Institute
Liebreich then looked at the metrics, and pointed out that the world's biggest green electrolysis plant is being built in Ordos, China, at a cost of $850mn and will require 720 MW of renewables to produce three-hundredth of 1% of current hydrogen demand. Fortescue Future Industries is building the Asian Renewable Energy Hub which will produce 26 GW of renewables and cover 6,500 km2 (50 sq miles) to produce 1.5% of current hydrogen demand. 'So, you would need 67 of these to replace existing hydrogen demand,' he said.
Liebreich suggested that: 'Homeopathic quantities of liquid hydrogen will be used anywhere in our energy system. NASA tried and lost 46% of all the hydrogen purchased for the shuttle programme. It's an absolute bear to deal with.' What's more, its density means it would need four or five times as many ships per unit of energy [to carry liquid hydrogen] as required for LNG.
In response, Martin Lambert acknowledged that: 'Decarbonisation is a huge challenge. It requires massive volume and will cost a huge amount, whatever the solution. We all recognise the energy transition is big, expensive and tough to do.'
As somebody said on day one of International Energy Week, the road to net zero by 2050 will be far bigger than the moon shot. What's sure is that there will be lots more debate to come. But don't bet on unicorns!