Info!
UPDATED 1 Sept: The EI library in London is temporarily closed to the public, as a precautionary measure in light of the ongoing COVID-19 situation. The Knowledge Service will still be answering email queries via email , or via live chats during working hours (09:15-17:00 GMT). Our e-library is always open for members here: eLibrary , for full-text access to over 200 e-books and millions of articles. Thank you for your patience.
New Energy World

embraces the whole energy industry as it connects and converges to address the decarbonisation challenge. It covers progress being made across the industry, from the dynamics under way to reduce emissions in oil and gas, through improvements to the efficiency of energy conversion and use, to cutting-edge initiatives in renewable and low carbon technologies.
New investment into UK battery storage announced at International Energy Week
1/3/2023
Photo: Adobe Stock
Masdar CEO Mohamed Jameel Al Ramahi has announced additional investment of close to £1bn into battery storage projects across the UK during day two of International Energy Week.
The United Arab Emirates (UAE)-government owned renewable energy company has already invested some £4bn into the UK's clean energy sector and is now targeting an additional investment of close to £1bn as part of the UAE-UK Sovereign Investment Partnership and Masdar's own growth targets. It will be one of the largest investment programmes in energy storage worldwide.
Al Ramahi described the UK as a 'key strategic market' for Masdar. He said: 'As we look ahead to COP28 in the UAE later this year, Masdar will continue to accelerate the deployment of clean energy around the world to help drive a successful energy transition.'
Honorary Fellowship of the Energy Institute
In other news, Al Ramahi was made an Honorary Fellow of the Energy Institute (EI) at International Energy Week, in recognition of his leadership in the fields of renewable energy and clean technologies.
The presentation was made by the EI's Vice President, former UK Energy Minister the Rt Hon Professor Charles Hendry CBE HonFEI, in the presence of His Excellency Mansoor Abulhoul, UAE Ambassador to the UK.
Commenting on the award, Hendry said: 'Under Mohamed Jameel Al Ramahi's leadership, as CEO and in other senior leadership positions for the past 15 years, Masdar has become a global clean energy giant, with multi-billion dollar investments spread across 40 countries. In addition, he is active in myriad sustainability and clean energy initiatives in the Emirates and globally.'
'As we face the realities of the climate crisis, and look to the UAE's vital leadership at COP28 this year, I am delighted to welcome Mr Al Ramahi into the EI Fellowship. He exemplifies our Institute's goal of creating a better energy future for society and I look forward to his contributions to our work accelerating a just energy transition in the Middle East and globally.'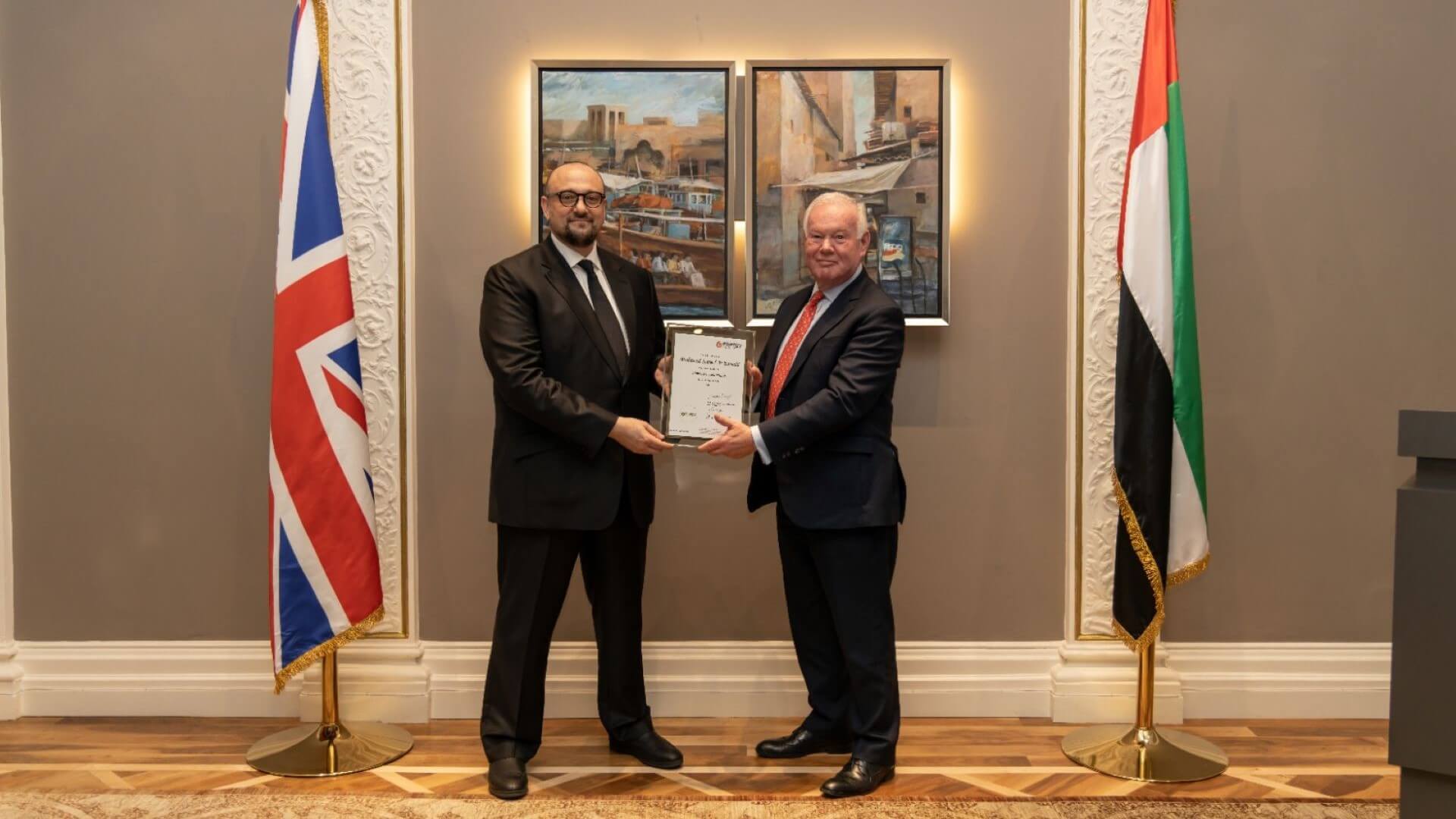 Masdar CEO Mohamed Jameel Al Ramahi (left), holding Energy Institute Honorary Fellowship award presented by EI Vice President and former UK Energy Minister the Rt Hon Professor Charles Hendry CBE HonFEI (right)
Photo: Oliver Dixon Photography, for the Energy Institute