Info!
UPDATED 1 Sept: The EI library in London is temporarily closed to the public, as a precautionary measure in light of the ongoing COVID-19 situation. The Knowledge Service will still be answering email queries via email , or via live chats during working hours (09:15-17:00 GMT). Our e-library is always open for members here: eLibrary , for full-text access to over 200 e-books and millions of articles. Thank you for your patience.
New Energy World

embraces the whole energy industry as it connects and converges to address the decarbonisation challenge. It covers progress being made across the industry, from the dynamics under way to reduce emissions in oil and gas, through improvements to the efficiency of energy conversion and use, to cutting-edge initiatives in renewable and low carbon technologies.
Ukraine disrupts gas deliveries to Europe for the first time
18/5/2022
Photo: Gazprom/Igor Kuznetsov
Photo: Gazprom/Igor Kuznetsov
Ukraine, a key transit country for Russian gas, disrupted gas deliveries to Europe for the first time last week, with the gas transmission system operator declaring force majeure over the key Sokhranivka transit pipeline that runs through Russian occupied territory in the east of the country.
While alternative pipelines are able to take a significant amount of the lost capacity, the move represented another cut in Europe's ability to import Russian gas.
Bulgaria and Poland were already cut off from Russian supplies and with the key transit Sokhranivka pipeline now closed, up to a third of Europe's gas supplies could be disrupted, equivalent to some 33mn cm/d, according to Rystad Energy.
Commenting on the news Rystad's Zongqiang Luo says: 'The most realistic scenario of a complete halt in gas exports from Russia to Europe would be if infrastructure were attacked, [closure of the Sokhranivka pipeline] is a small preview of what might happen if gas installations are hit by live fire and face the risk of extended downtimes.'
The knock-on effect of removing a further pipeline from Europe's gas grid and the loss of 10mn cm/d of gas flow will make it harder for countries to meet their storage targets and hasten Europe's plans to move away from imports of Russian gas, continues Luo. As the European gas grid is well integrated, no one country is likely to suffer any immediate impact, but the force majeure puts further strain on the system and places a floor on downside price movement, he says.
According to the force majeure statement, GTSOU, which operates Ukraine's gas sector, cannot carry out operational and technical security at the Novopskov compressor station in the Luhansk region, which means it cannot put current transit contracts through the route without risk.
Other pipelines will now be required to deliver natural gas to Europe, such as the Sudzha pipeline, which also runs through Ukraine and holds a contracted gas capacity of 77mn m3/d. According to Rystad Energy, gas flow via the Sokhranivka pipeline was averaging 23mn m3/d in May 2022. Meanwhile, the Sudzha pipeline was carrying some 70mn m3/d before the force majeure was announced, leaving at least 7mn m3/d of spare capacity. However, Luo notes that based on the historical flow record, another 6mn m3/d on top of that capacity could be added at Sudzha, leaving some 10mn m3/d of gas flow that will still need to be re-directed via other pipeline routes. 'Where exactly is not clear as capacity is seemingly full,' he says.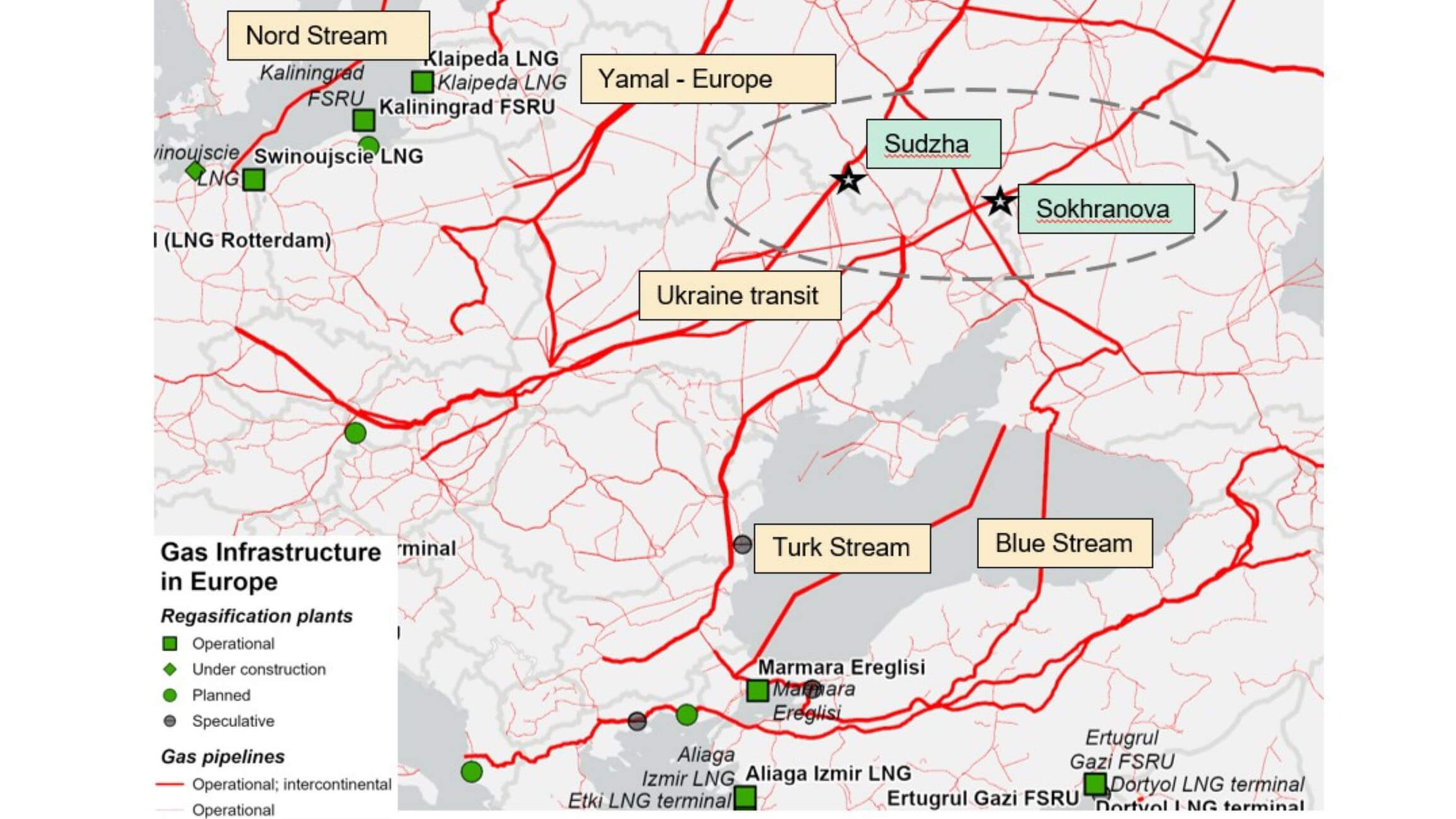 Fig 1: European gas infrastructure
Source: Rystad Energy