Info!
UPDATED 1 Sept: The EI library in London is temporarily closed to the public, as a precautionary measure in light of the ongoing COVID-19 situation. The Knowledge Service will still be answering email queries via email , or via live chats during working hours (09:15-17:00 GMT). Our e-library is always open for members here: eLibrary , for full-text access to over 200 e-books and millions of articles. Thank you for your patience.
New Energy World

embraces the whole energy industry as it connects and converges to address the decarbonisation challenge. It covers progress being made across the industry, from the dynamics under way to reduce emissions in oil and gas, through improvements to the efficiency of energy conversion and use, to cutting-edge initiatives in renewable and low carbon technologies.
Gas price volatility rises after Russia halts gas exports to Poland and Bulgaria
4/5/2022
Photo: Gazprom/Igor Kuznetsov
Photo: Gazprom/Igor Kuznetsov
Russian gas giant Gazprom last week confirmed a halt in gas exports to Poland and Bulgaria over the two countries refusal to pay for supplies in Rubles. European gas prices reacted with renewed volatility, surging to nearly $40/mn Btu at the time. The total impact on European and global markets will be muted for now, but the situation could escalate quickly if other large countries or individual buyers are cut off from Russian supplies, and in the case of further sanctions related to Russian gas imports from the European Union (EU), writes Nikoline Bromander, Analyst – Gas and LNG, Rystad Energy.
Russia's decision to cut off gas flows to Poland and Bulgaria will significantly impact these two countries, although the knock-on effects should be manageable. Polish gas distributor PGNiG's contract with Gazprom for 10bn cm/y expires at the end of this year. Poland has said it will not renew the contract as the country originally aimed to cut its dependency on Russian gas after the contract expired.
As recently as last year, Poland relied on Russian gas for nearly half of its gas imports. The Polish energy system will likely feel some pressure from the loss in flexibility, but this may be short-lived as the country ramps up supplies from other sources. According to storage data, Poland is now at a record high for this time of year at 77% of capacity, compared to a normal level of 40%.
The country also has capacity to ramp up LNG imports and will soon benefit from two pipelines coming online – the Lithuania-Poland GIPL from 1 May and the Baltic pipeline from Norway by the end of this year. The impact on Poland should therefore be minimal, and the country will not need to limit or cut off gas supplies to consumers.
Meanwhile, Bulgaria has historically relied on Russian gas for up to 100% of its piped gas imports. Similar to Poland, the country has sought to end Russian gas imports by the end of this year when its contract with Gazprom expires.
The Bulgarian government has made recent strategic efforts to diversify its energy imports to avoid relying solely on Russian imports, including a deal to purchase gas from Azerbaijan. One feasible and relatively immediate option available to the Bulgarian government would be to increase imports of Azeri gas. The bottleneck will be capacity constraints on the Greece-Bulgaria interconnector, but that is expected to be resolved later this year.
Many European countries are searching for ways to become independent from Russian gas. Lithuania was the first European country to announce a complete cut-off from Russian gas supplies, on 1 April 2022. Countries like Germany, the Netherlands and Denmark are following suit with concrete action to reduce dependency and diversify gas supplies.
However, not all countries have readily available alternatives to Russian gas, and as infrastructure upgrades and additions require significant time and investment, some countries could struggle in the short-term to replace any sudden drop in supply. More severe consequences are likely if other large consumers of Russian gas or individual buyers are cut off, such as Germany and Italy.
Security of supply a top concern
In addition to increased pressure for reducing Russian imports, security of supply is still a top concern for European energy importers. Large consumers have been updating their gas supply plans, including Germany, which now envisages building four floating storage and regasification units (FSRU), an essential component of the LNG supply chain, instead of the originally planned three. The move solidifies Germany's drive to move away from Russian gas and is a step forward in reaching its goal of zero Russian imports by 2024.
Historically, Europe has been reliant on imported Russian gas to meet its needs. Russian pipeline supplies last year accounted for around 28% of Europe's total gas supply. Include Russian LNG, and the number exceeds 31%, or 155bn cm out of a total of 495bn cm. Other supply sources required to bridge the gap include imported LNG and minor volumes from Algeria, Azerbaijan and Libya.
In 2021, LNG imports were responsible for 19% of Europe's supply mix, a share that is forecast to increase this year and in the long term as Europe increasingly turns to imported LNG to feed its energy needs. Between Rystad Energy's outlook for Europe's gas balance before and after the invasion, we have reduced Russian pipeline flows each year through 2030, with the reductions rising from 37bn cm in 2022 to more than 100bn cm in 2030. Incremental LNG will make up for only part of this deficit, between 23bn cm in 2022 to around 50bn cm in 2028.

As a result, European gas consumption likely peaked in 2019 and will now decline steadily through 2030. This is a significant departure from prior outlooks for gas in Europe's energy transition, supplementing renewables through countries' phase-outs of coal and nuclear power.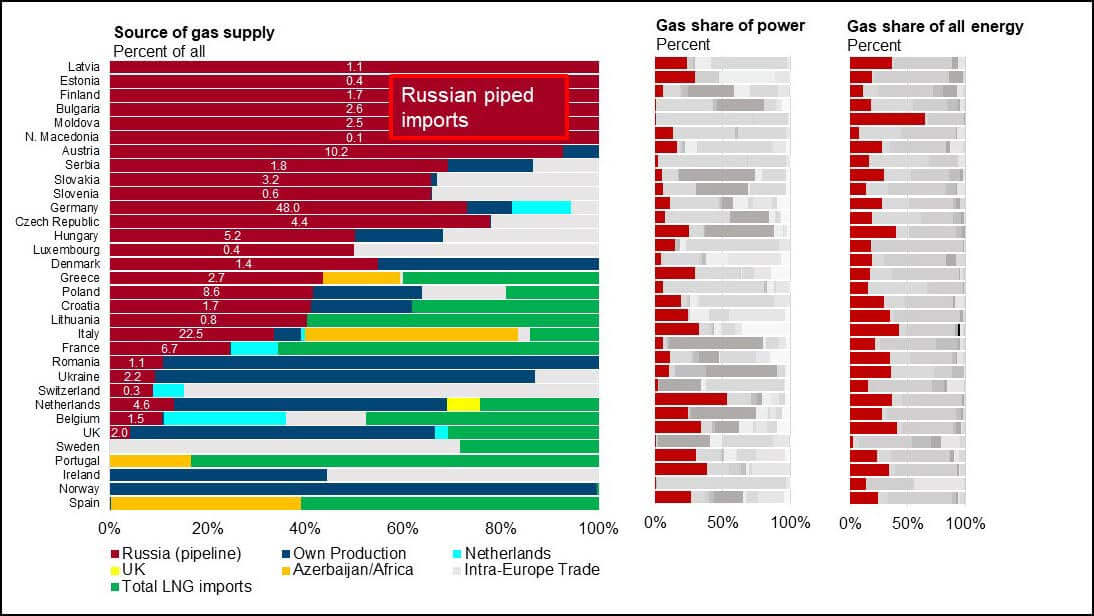 Fig 1: European countries' dependency on Russian gas imports in 2021 – natural gas supply mix by source, Russian exports (in bn m3)
Source: Rystad Energy