Info!
UPDATED 1 Sept: The EI library in London is temporarily closed to the public, as a precautionary measure in light of the ongoing COVID-19 situation. The Knowledge Service will still be answering email queries via email , or via live chats during working hours (09:15-17:00 GMT). Our e-library is always open for members here: eLibrary , for full-text access to over 200 e-books and millions of articles. Thank you for your patience.
New Energy World

embraces the whole energy industry as it connects and converges to address the decarbonisation challenge. It covers progress being made across the industry, from the dynamics under way to reduce emissions in oil and gas, through improvements to the efficiency of energy conversion and use, to cutting-edge initiatives in renewable and low carbon technologies.
Call for UK government to adopt Recharge UK recommendations
16/8/2023
Photo: Adobe Stock
The UK government is being called upon to adopt recommendations that aim to accelerate chargepoint deployment to keep up with the growth of electric vehicle (EV) sales. Meanwhile, a new Guiness World Record title has been set in the UK for the greatest distance travelled by an electric van on a single charge.
The REA (Association for Renewable Energy and Clean Technology), Zemo Partnership, FairCharge and The Climate Group have jointly signed a letter calling on Jesse Norman, the UK Minister for Decarbonisation and Technology, to take forward recommendations set out in Recharge UK's Charging Forward to 2030 report that provides a roadmap of how the industry can accelerate chargepoint deployment to keep up with the growth of electric vehicle (EV) sales in the UK.
They are calling for the following recommendations from the report to be taken forward:
Promote local system flexibility: Support the deployment of flexible solutions such as battery storage and solar to provide local system flexibility and reduce the need for costly grid reinforcement.
Prioritise chargepoints in connection queues: When emergency services and road freight are reliant on charging infrastructure to fulfil their roles, chargepoints should be considered nationally significant infrastructure and be eligible for prioritisation in the connections queue.
Improve local authority involvement: The government should introduce a statutory duty to plan for EV infrastructure on local authorities. This should support more detailed evaluation of requirement for anticipatory investment in grid capacity.
Introduce a right to charge: The government should introduce a right to charge which protects tenants in multi storey buildings from the high upfront cost of grid connections and enables future tenants to install chargepoints more easily.
The future of transport regulatory review: Ensure that car parks can support a growth in EV demand to 2030, by mandating more ambitious minimum levels of chargepoints and cabling installed in new and existing car parks.
Zero emissions vehicle (ZEV) mandate: Ensure that the ZEV mandate is as ambitious as possible and flexibility mechanisms are restricted to provide investor confidence for a newly developed charging industry. Ensure plug and charge, and V2X (vehicle to everything), are included in requirements at the next earliest review of the ZEV mandate.
Mandate accessibility requirements for public chargepoints to ensure wheelchair users always have equal access to charge their vehicle.
Introduce a van charging standard to enable van drivers to charge as easily as car drivers.
Dr Nina Skorupska CBE, Chief Executive of the REA, comments: 'By adopting the recommendations in this report, the government can achieve its target of reaching 300,000 chargepoints by 2030, creating new jobs and driving economic growth.'
Andy Eastlake, Chief Executive of Zemo Partnership adds: 'As the report highlights, the provision of EV charging is a complex challenge of energy generation, storage, distribution, delivery and information – it's not just about providing a socket. Enhancing the skills base and improving resources in every area of planning, local authority, consumer communication and chargepoint installation will be critical for success. But it is clear, consistent and ambitious policy, developed through collaboration and driven from the centre – together with rapid delivery of the detailed recommendations of the Recharge report that will create the right environment for greater investment in net zero, by both companies and consumers.'
New world record for electric van journey
Meanwhile, the new Guinness World Record for the greatest distance travelled by an electric van on a single charge – 311.18 miles (500.8 km) – was set by Kevin Booker, Sam Clarke and Fergal McGrath, sponsored by Webfleet, Bridgestone's fleet management solution. They drove a Fiat E-Scudo electric van fitted with energy-efficient Bridgestone Duravis tyres that have a low rolling resistance. The previous record of 258.85 miles was set in the US.
Independently verified video footage, odometer, GPS and battery level data from Webfleet revealed that the compact van, with a 75 kWh battery and a WLTP*-rated range of 205 miles, averaged 4.5 miles/kWh on a circular route across Cambridgeshire, Lincolnshire and Northamptonshire, in the UK. The journey took 13 hours and nine minutes during daylight hours. The FIAT E-Scudo needed no modifications and the route combined urban and rural roads to replicate 'real world' conditions.
'This remarkable achievement is testimony to the determination and technological ingenuity of all those involved,' says Beverley Wise, Webfleet Regional Director for Bridgestone Mobility Solutions. 'The record demonstrates not only the capabilities of electric vans and advanced Bridgestone tyre technology for businesses and urban mobility, but also the impact that drivers can have on EV energy consumption.'
'The reduction of carbon emissions and improvement of air quality are among the highest priorities for governments all over the world, especially in cities where air pollution is the worst,' notes driver Fergal McGrath. 'We are seeing the recent expansion of the London ultra low emission zone (ULEZ), for example, from August 2023. Trucks and vans are predominantly powered by diesel and so it is important that the transition to pure electric with zero tailpipe emissions is as smooth as possible. By achieving this Guinness World Records title, we are hoping to demonstrate that pure electric commercial vehicles can meet and exceed customer requirements in the real-world, especially in large towns and cities.'
*WLTP = Worldwide Harmonised Light Vehicles Test Procedure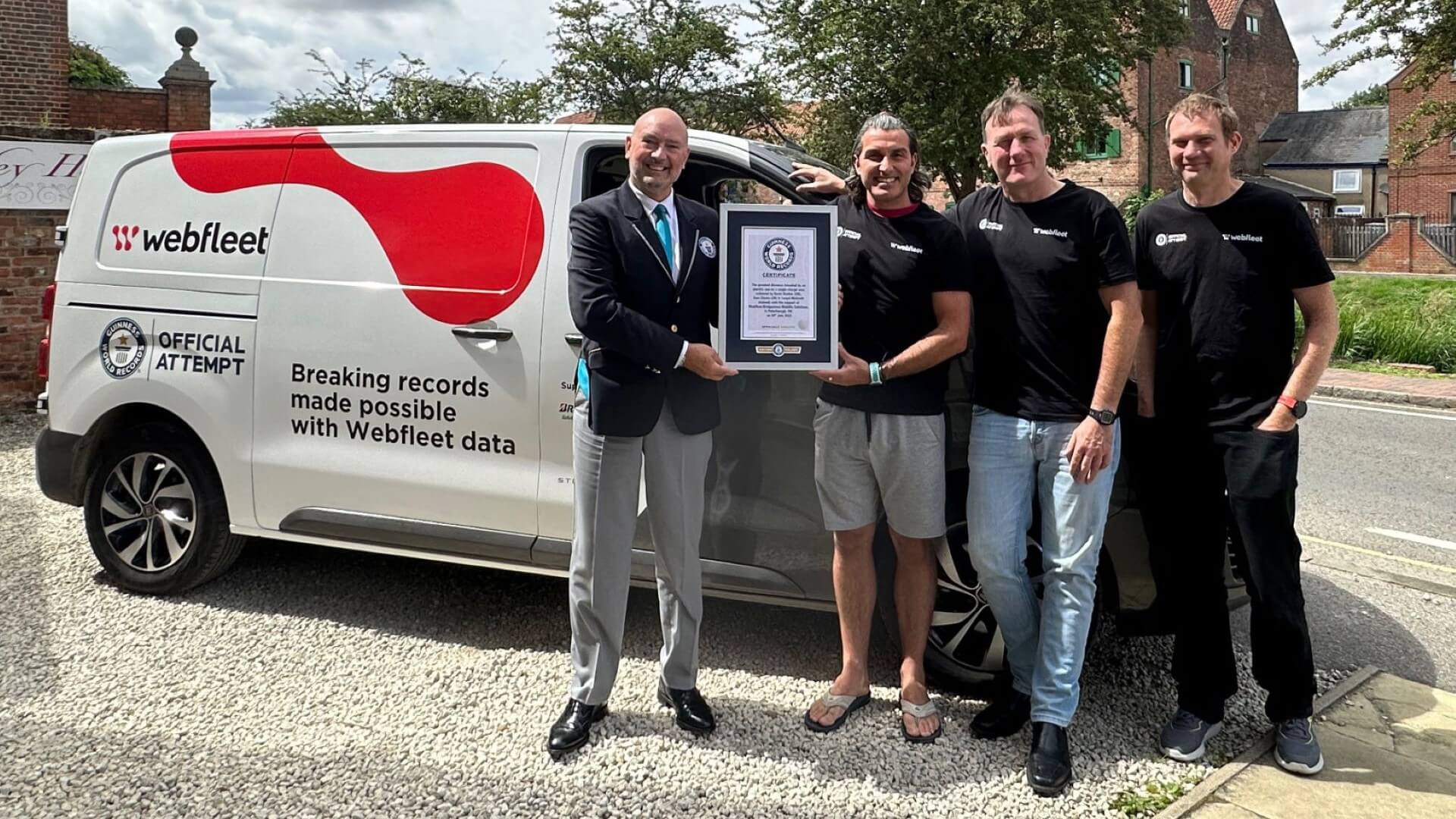 (Left to right) Glenn Pollard, Guiness World Records Adjudicator, with drivers Sam Clarke, Fergal McGrath and Kevin Booker
Webfleet