Info!
UPDATED 1 Sept: The EI library in London is temporarily closed to the public, as a precautionary measure in light of the ongoing COVID-19 situation. The Knowledge Service will still be answering email queries via email , or via live chats during working hours (09:15-17:00 GMT). Our e-library is always open for members here: eLibrary , for full-text access to over 200 e-books and millions of articles. Thank you for your patience.
Celebrating one-year of reporting on the industry's progress toward net zero
New Energy World

embraces the whole energy industry as it connects and converges to address the decarbonisation challenge. It covers progress being made across the industry, from the dynamics under way to reduce emissions in oil and gas, through improvements to the efficiency of energy conversion and use, to cutting-edge initiatives in renewable and low carbon technologies.
Decommissioning – the world's biggest scrap project
8/3/2023
6 min read
Photo: Kevin Harris, Unsplash
Photo: Kevin Harris, Unsplash
Decommissioning the world's ageing energy infrastructure, be it offshore oil field platforms, off- and onshore wind turbines, solar panels and much else besides, is a massive task with varying rules and levels of compliance. Selwyn Parker reports.
Assaulted by storms, salt water, structural fatigue and ultimately unfavourable economics, every offshore energy-producing installation will eventually come to its use-by date. And nowhere more so than in the hostile environment of the North Sea, where a huge new industry is rapidly developing that, the UK government hopes, will be deployed around the world.
Decommissioning has in the last few short years become as important as the original commissioning, and just as inseparable. As the North Sea Transition Authority (NSTA) notes in its latest report, decommissioning of the oil and gas infrastructure in the UK Continental Shelf is estimated to cost around £44.5bn. Even before the authorities sign off on a new energy project, operators are now required to provide full details of the decommissioning process, including its funding.
No thought was given to decommissioning in the early years of the North Sea; now it's obligatory.
Although the NSTA also notes that the ultimate bill is falling because of impressive spade work by operators that has slashed forecast total costs by £15bn in the last five years, the North Sea is just one of several global hotspots that will see a surge in decommissioning over the next 10 to 20 years and beyond.
And that's just in the oil and gas industry. Prodded by governments, the offshore and land-based wind power industry is rapidly drawing up decommissioning guidelines as the first installations draw closer to the end of their life and will be pulled down in what are big and expensive projects. Currently, most worked-out turbine blades end up in landfill.
Similarly, solar power is right in the middle of the decommissioning surge. In the US, local municipalities are insisting on dismantling, demolition and refurbishment practices that could take up to two years per site.
Fortunately, with energy being the most international of industries, the best decommissioning technologies and techniques will quickly spread worldwide. Already we are seeing far more sophisticated methods than previously with semi-submersibles and remotely operated underwater vehicles being put into action in the dismantle and repair process.
A burgeoning behemoth
For example, Helix, the US operator of semi-submersibles, has a full order book for its Q7000, a dynamically positioned vessel that can conduct decommissioning operations down to a depth of 3,000 metres. ExxonMobil and Shell have hired Helix vessels, the former for the Gippsland basin off Australia and the latter for plug and abandonment projects on subsea wells located in the Bijupira and Salema fields located 250 km east of Rio de Janeiro, Brazil.
Offshore Australia is just one of many decommissioning hotspots. Rystad Energy estimates that no less than 440 wells will be taken out of play by 2026, with at least another 172 waiting their turn. The key operators there are ExxonMobil, BP, Woodside and Santos. (That compares with the 2,100 wells facing decommissioning over the next decade in the North Sea.) The Australian decommissioning – or plug and abandonment – market alone is valued at a minimum of $40bn.

Globally, the level of activity is enormous – and growing. In a detailed chart updated in late 2022, the International Energy Agency calculated the annual average requirements for decommissioning of oil and gas installations by region up to 2040, ranking the regions by number of assets. In the forecast covering 2017–2030, nearly 100 assets (mainly fixed platforms located above numerous wells) are due for decommissioning, with North America, the Asia-Pacific and Europe predominating in that order. In the next decade though, the pace of decommissioning accelerates, with the Asia-Pacific, Europe and Africa out in front.

The starting point for all decommissioning operations is that they will be enforced by law. But governments need to be vigilant, warns the Commonwealth Secretariat, which has drawn up guidelines and urges them to 'manage costly oil and gas decommissioning activities, which are expected to surge as a result of the global energy transition'. Essentially, governments should hold the industry to account lest taxpayers have to foot the bill.
Decommissioning involves much more than the mere dismantling of man-made fixtures. 'It involves the safe plugging and abandoning of oil wells, removal of structures and restoration of the surrounding areas,' notes the Secretariat, which is a banner waver for the just energy transition. 'If poorly executed, decommissioning can have disastrous consequences for the environment and communities,' it continues.
The Secretariat's main concern is that developing countries with weak regulators and legal systems may end up paying for the economic and environmental bill. 'The international community must be extremely vigilant and united to ensure that the "polluter pays" principle is adhered to,' it warns.
In a highly visible industry, most operators buy into these principles. The UK, for instance, requires infrastructure owners to produce a 'glidepath' of their procedures so they avoid any subsequent problems in the dying years of the installation – that is, within three to six years of the end of production. 'Not every decommissioning project has benefitted from early planning and opportunities to minimise cost are being lost. More effort is required to ensure that planning happens in a timely manner,' says UK Oil & Gas.
Meantime, offshore wind farms present their own decommissioning challenges, notably in terms of the uncertainty of cost and logistics because of the absence of precedents.

'The prediction of costs and emissions for offshore wind farm decommissioning projects is not an easy task due to the limited technical experience of the industry and the lack of available data,' explains a European Union (EU) paper in mid-2022. The research is of particular interest because the EU leads the world in offshore wind farms and plans to boost capacity from around 150 GW to 460 GW by 2030, with inevitable decommissioning projects along the way because the operational life of a wind farm is between 20–25 years. Indeed, some offshore wind farms have been pulled down within 15 years.

There's a lot of offshore wind farms to come down over time. According to Cambridge University researchers, globally 43mn tonnes of wind turbine blades must be decommissioned by 2050. Now, while 85–95% of the mainly steel, concrete and copper structure can be relatively easily recycled once it's been brought back to shore, the blades are made from composites 'for which there is no established recycling route'. That's why nearly all of it is dumped in landfill or burned, according to a study by Italian energy company Enel.
Taking the example of UK offshore wind farm Lincs, a 10-year-old, 75-turbine installation located 8 km off the coast of Lincolnshire, the EU researchers calculated the time and cost of removing all the bits and pieces – wind turbine, foundations, offshore substation, meteorological mast, cable, scour protection – before adding in site restoration and transportation. They estimated total decommissioning, with all the elements brought back on shore, could take 152–258 days, depending on the type of ships used and delays caused by weather. Total costs would run to about £20mn, not counting the cost of emissions.
Decommissioning of offshore wind farms also present a considerable logistical operation involving barge, cable, remote underwater vehicles and jack-up vessels among other specialised ships. The masses concerned are intimidatingly heavy, with monopiles for the wind turbines weighing 204–290 tonnes and steel 272–635 tonnes, while the jacket weight can be as much as 907 tonnes. Like other studies, the EU researchers see the need for improvements in how these jobs are done, calling for 'the development of new innovative and sustainable transportation strategies for offshore wind farm decommissioning projects to reduce the overall emissions'.
Looking further ahead, there is an ambitious Horizon Europe initiative to create a circular economy for wind farms, both off and onshore. A €12mn France-led project is tasked to come up with ideas this year that will lead to longer-lasting, more easily maintained and, above all, more easily recycled wind farms when they are decommissioned. More durable wind turbines could come from tougher, more damage-tolerant and weather-proofed materials such as composites, bio-based fibres and resins. Horizon Europe sees the principle of circularity as important for onshore wind 'given the large volumes of capacity to be decommissioned in the next decade'.
Meanwhile, the US is tackling land-based wind turbines, all 70,000 of them with a current total capacity of nearly 138 GW. As the US government's energy authority puts it: 'Many of these turbines are new, but some older turbines are reaching the end of their service life.' When their day is done, there are only two options – repowering or decommissioning.
Since wind turbines have a finite life of about 30 years, most states require decommissioning plans to be filed from the very start. It's a time-consuming and expensive process, taking between six months and two years, including full restoration of the land.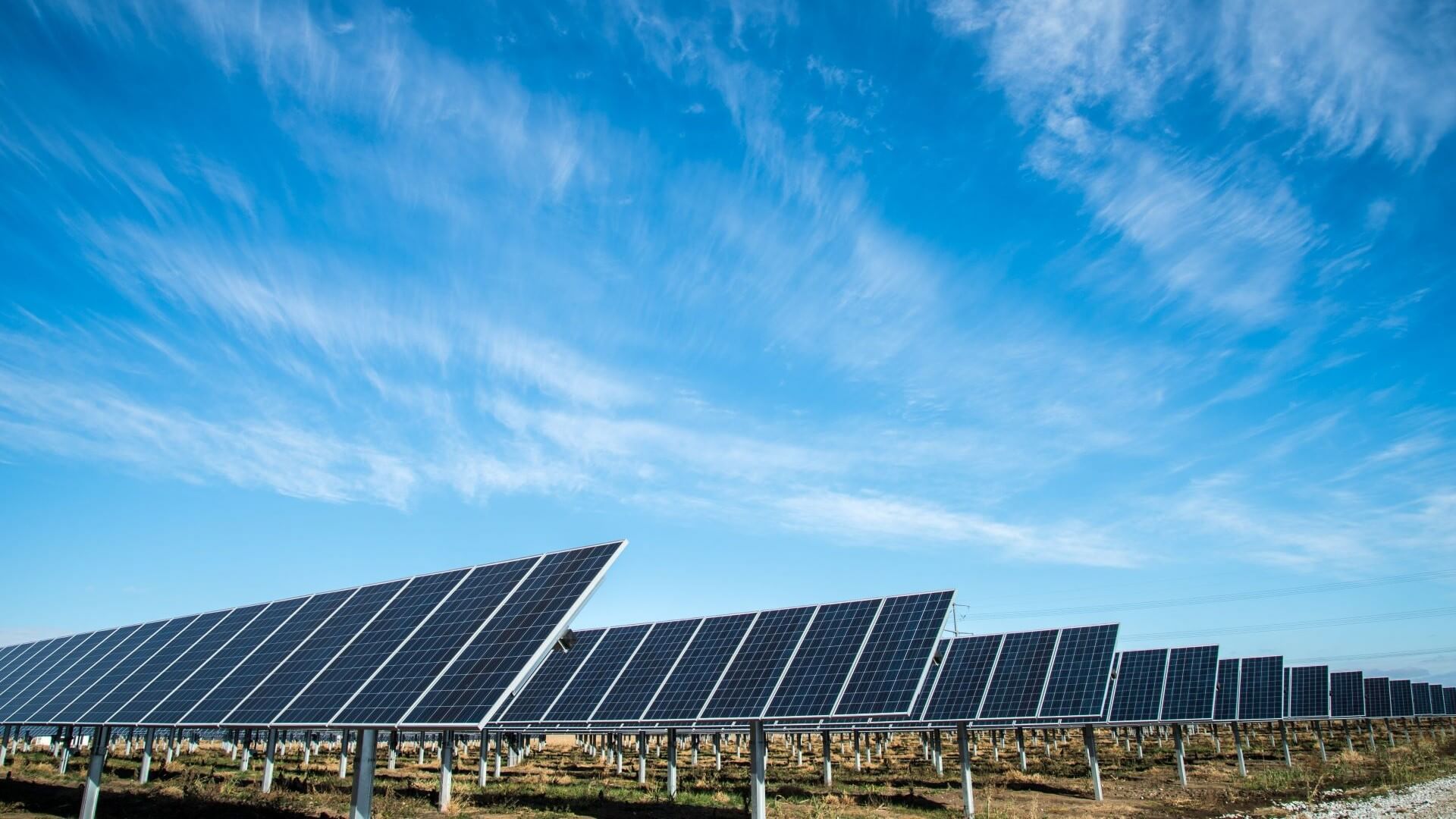 Solar power is also right in the middle of a decommissioning surge
Photo: American Public Power Association, Unsplash
The US is also one of the first countries to grapple with decommissioning of solar power, another looming global problem. The Cambridge study estimates that 60–78mn tonnes of photovoltaic (PV) solar panels will have to be dealt with in some way by 2050. The state of Washington (and the EU) are getting tough. They have made the manufacturer responsible for financing and implementing take-back programmes of panels for re-use. At least 85% of PV modules must be sold for recycling at no cost to the consumer.
Whatever the type of infrastructure, decommissioning is still in its infancy and has much to learn. It has made a good start, but this industry will be closely watched.