Info!
UPDATED 1 Sept: The EI library in London is temporarily closed to the public, as a precautionary measure in light of the ongoing COVID-19 situation. The Knowledge Service will still be answering email queries via email , or via live chats during working hours (09:15-17:00 GMT). Our e-library is always open for members here: eLibrary , for full-text access to over 200 e-books and millions of articles. Thank you for your patience.
New Energy World

embraces the whole energy industry as it connects and converges to address the decarbonisation challenge. It covers progress being made across the industry, from the dynamics under way to reduce emissions in oil and gas, through improvements to the efficiency of energy conversion and use, to cutting-edge initiatives in renewable and low carbon technologies.
The potential of floating solar power in Indonesia
14/12/2022
8 min read
Photo: Adobe Stock
A new joint venture between UK researchers and Indonesia, Solar2Wave, is looking at the potential of floating solar power installations, even for locations with large wave heights. Dr Luofeng Huang, Assistant Professor and Lecturer in Mechanical Engineering at Cranfield University, explains the concept.
With a large population strung across more than 6,000 small islands, Indonesia's electricity infrastructure faces particular challenges. Around 1.5mn people in remote areas are still living without any connection to the electricity grid and are dependent on diesel engines to generate power. Meanwhile, the global energy crisis means diesel is becoming increasingly unaffordable.
Indonesia's energy supplies are currently 88% reliant on fossil fuels and a number of new (and controversial) coal-fired power stations, but the population still remains subject to power cuts and shortages. The Indonesia National Energy Policy includes a target for 23% of the country's total energy supply to come from renewable sources by 2030 (and be net zero by 2060). However, the costs of transformation for a nation where 76% of its surface area is ocean are daunting. Offshore wind turbines have already been dismissed as being too expensive for many locations.
A new joint venture between the UK and Indonesia, Solar2Wave, is aiming to provide an easier, lower cost, long-term solution to the energy dilemma. The year-long project will see robust testing of floating photovoltaic solar farms (FPV), funded with £300,000 by the Innovate UK Energy Catalyst scheme. Led by researchers at Cranfield University and UK SME Achelous Energy, the partners in Indonesia include Pattimura University, Institut Teknologi Sepuluh Nopember, Orela Shipyard and Gerbang Multindo Nusantara.
Solar economics
Solar power is considered to be a cheap option. Figures from the International Energy Agency's (IEA) World Energy Outlook 2020 indicate that solar power is now the most affordable electricity in history – costing some $31–40/MWh, much lower than nuclear at $118–192/MWh, coal at $66–152/MWh and gas combined cycle at $44–$68/MWh.
Offshore floating solar farms are the most practical option for Indonesia, a nation with a coastline of 157,000 km – longer than any other country. Just 0.01% of the Indonesian sea surface area equates to 200,000 acres, with a solar generation capacity of at least 50 GW, compared with Indonesia's total electricity generation capacity of 74 GW in 2021.
The potential of FPV in Indonesia is enormous. The approach is fully scalable in that it consists of small individual solar panels. So, different sizes of FPV farms can be placed along the coastline of an island in strategic locations depending on the demand required by local residents who have traditionally been off grid.
There is, however, one substantial technical challenge to this ideal future: ocean waves.
FPV technologies have been operating for years, but only on lakes and relatively still waters. Ocean waves are another level of threat. The wave heights in Indonesian waters can frequently exceed 1 metre, which is high and destructive enough to ruin floating solar panels if standard designs of floating support are used. These waves threaten to lead to wasted investments and make electricity supplies unreliable.
The potential of FPV in Indonesia is enormous… Different sizes of FPV farms can be placed along the coastal line of an island in strategic locations depending on the demand required by local residents who have traditionally been off grid.
Innovative design
The Solar2Wave project is based on an innovative design to mitigate ocean wave impact and protect the PV panels and their working operations.
Advanced offshore breakwater technologies will be combined with the floating support structure of solar panels. In this way, the incoming waves are attenuated, reducing the wave height to less than 10% of their original size. The attenuated wave then travels through a buffering material which makes the wave negligible, keeping the FPV intact. Each floating unit is moored to the ocean surface through a robust system of chains and anchors.
Design of the novel FPV system has begun in the Cranfield University laboratories. Preliminary designs have been created based on analytical calculations. Further in-depth designs are being analysed using computational fluid dynamics simulations, followed by validation using a scaled prototype and experiments in a physical wave tank. Initial findings suggest that Solar2Wave's FPV farms can be placed at locations around Indonesia's coastline with assault from waves of up to 5 metres high.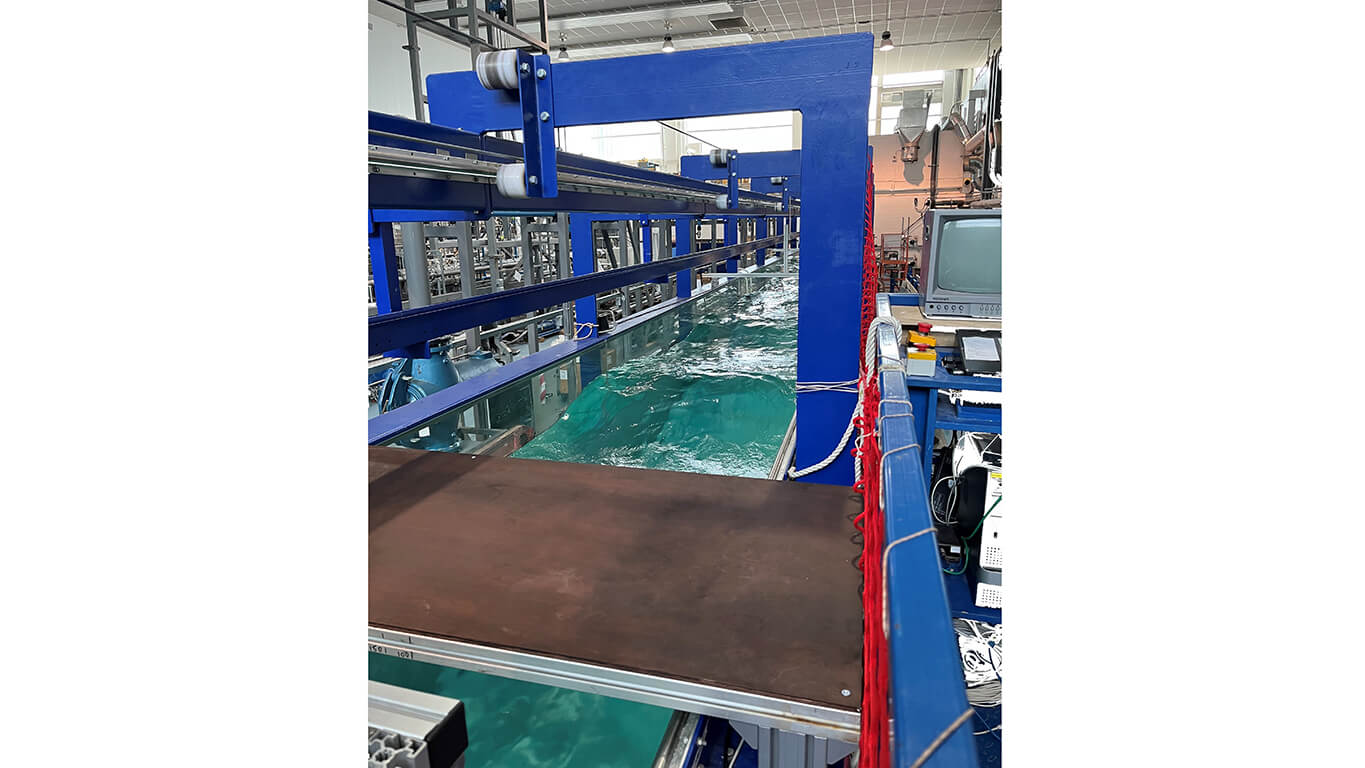 Tests on a scaled floating photovoltaic solar prototype are being carried out using a wave tank at Cranfield University
Photo: Cranfield University
The configuration of the photovoltaic panels will be optimised to suit the particular operating conditions on floating structures, including the PV model, optimal angle, spacing, tracking and control. The work will also include analysis of the most suitable solar-energy storage for offshore environments, exploring options for batteries, pumped hydro systems and molten salts.
Several areas of innovation could potentially add increased efficiency and higher economic returns to the farms. These include concentrator PV, using lenses to concentrate solar radiation at a single focal point; perovskite solar cells – a low-cost, highly efficient material made from calcium titanate that has a crystal structure and is easily 3D printable; and ocean-based gravity energy storage – 'storing gravity' in a form of battery using heavy weights that fall slowly to the ocean floor.
Local conditions and needs
The work will be based on a detailed understanding of local conditions and needs.
Identifying off-grid areas in Indonesia with the most urgent energy issues and different ocean wave conditions is crucial. Bespoke energy access approaches for FPV farms will be developed to make sure the technology meets its essential goal of providing for both household and commercial usage. This will allow for thorough testing in all the varied conditions, with studies of structural fatigue and maintenance and element recycling strategies. Critically, this will include energy cost evaluations.
During 2023, a number of virtual solar farms of different sizes will be mapped out around the coastline of a representative Indonesian island. This will help quantify the potential improvement in local energy access and people's lives, ensuring sustainable operations in the real site without negative environmental impacts.
Local workshops and engagements will be conducted to ensure that the plan is practical and has incorporated the needs of local residents. With insights from this broader picture, it will be possible to assemble a full business model and sense of market capacity for Solar2Wave for the whole of Indonesia.
The project outcomes will be shared with governments, relevant industries and other stakeholders. The partners in Solar2Wave will also then develop a roadmap for deploying FPV farms in Indonesia and worldwide, looking to build routes to markets, developing business partnerships with local suppliers and manufacturers, and estimating potential investment and profits.
Broader benefits
In principle, development of FPV will lead to an affordable, clean solar energy solution that offers a full power supply for every Indonesian resident. On a global level, FPV has the potential to end the country's heavy dependence on coal, oil and gas electricity generation. Placing FPV in the sea instead of in lakes or on land will also save precious space for agriculture, tourism and other activities.
Access to electricity will change lives, and prospects for entire communities and the national economy as a whole – powering lights, phones and computers, which means better network coverage for mobile and internet communications generally.
This will allow remote areas to be better connected and improve both security and healthcare. For example, it can provide islanders in remote areas with more warnings of earthquakes, tsunamis or other potential crises resulting from the impacts of climate change. It will be an important new foundation for workplaces, manufacturing facilities and businesses in general, helping enterprises to partner and cooperate with other businesses and gain access to new markets. More people in rural areas will be able to access higher education services. Small start-up businesses can be powered by FPV, creating jobs and boosting local economies.
There are implications for diversity and gender equality and social inclusion (GESI), in particular.
The promotion of disadvantaged groups is considered to be a cornerstone of the FPV project. One of the problems identified with remote communities in Indonesia has been the lack of education around GESI awareness. In these communities, men have often remained the prime beneficiaries of any new technology or infrastructure being introduced.
Solar2Wave will ensure that local engagement and future developments will be run with a focus on enabling women and traditionally disadvantaged groups (such as younger people and the elderly) to increase their access to the benefits generated by the project, in terms of access to education, the internet and enterprise opportunities.
Forward plans
A successful initial pilot is anticipated to lead to the development of 30 or more additional sites around Indonesian islands, allowing for market consolidation, and promising further finance to support the expansion of Solar2Wave technology to other global markets.
Globally, this FPV initiative is expected to help other archipelago nations improve grid access. These include the Philippines and Papua New Guinea, and other countries where there is a lack of usable land for solar farms.
The approach has also become relevant in the wake of UK government plans to ban solar farms from 'middling-to-low' category agricultural land. A change of legislation in this area would exclude around 58% of agricultural land in England from use by solar power generators.
The Solar2Wave technology is highly transferable to other applications, for hybrid offshore solar-wind farms, hybrid solar-fishing farms, wave energy converters, for coastal defences against the rising sea level, and also for use as recharging points for any electric-powered marine vessels.