Info!
UPDATED 1 Sept: The EI library in London is temporarily closed to the public, as a precautionary measure in light of the ongoing COVID-19 situation. The Knowledge Service will still be answering email queries via email , or via live chats during working hours (09:15-17:00 GMT). Our e-library is always open for members here: eLibrary , for full-text access to over 200 e-books and millions of articles. Thank you for your patience.
New Energy World

embraces the whole energy industry as it connects and converges to address the decarbonisation challenge. It covers progress being made across the industry, from the dynamics under way to reduce emissions in oil and gas, through improvements to the efficiency of energy conversion and use, to cutting-edge initiatives in renewable and low carbon technologies.
Queen Elizabeth II and her energy age
14/9/2022
4 min read
Photo: Alamy
As the nation, Commonwealth and world mourn the death of Queen Elizabeth II, EI President Juliet Davenport OBE HonFEI pays tribute and looks at our late Patron's 70-year reign through an energy lens.
With the death of Her Majesty The Queen, there's a sense of profound national loss. She had become perhaps more than a monarch, in how she touched and affected the lives of so many over so long. And for us at the Energy Institute, we are saddened additionally by the loss of our Patron. But her passing provides us with a pause for thought, and the longevity of her reign and her recurring presence alongside our industry, a lens through which to reflect on our past and future.
The world in 1952
When the young Princess Elizabeth acceded to the throne in 1952, the world of energy was unrecognisable compared to today. Almost all the energy used in Britain was still derived from coal, produced indigenously. Steam trains, open coal fires in our homes and blast furnaces in our industries were the norm. Demand was lower, despite a population already exceeding 50mn, because the world had yet to see the onset of rapid industrialisation and mass consumption, and the improvements in living standards these would bring – in the west at least.
Environmentally, there was no escaping the impact of coal on air quality in Britain's cities and industrialised areas. Just 10 months into the Queen's reign, the so-called Great Smog was one of London's worst ever air pollution episodes. Smoke levels reached 56 times 'normal' levels, visibility was allegedly so bad that people could not see their own feet, and around 4,000 extra deaths were recorded due to respiratory problems.
But there was little awareness of humankind's wider, longer-term impact on our climate. Global concentrations of CO2 in the atmosphere were only around 310 parts per million (ppm), but about to start their meteoric emission-driven rise towards today's 415 ppm and the devastating impacts that is having. Average global temperatures in the early 1950s were still not much higher than pre-industrial levels; indeed, the industrial revolution had yet to take its full, delayed toll on our planet.
Celebrating British energy achievement
The 70 years of the Queen's reign have seen tremendous change, pioneering innovation and human advancement. And when we look back at many defining moments in Britain's energy story, there she was. Not just cutting ribbons and making small talk, but helping to define our nation's journey to modernity, punctuated by prestigious industrial achievement by our industry and its pioneers.
With the arrival of the electricity age, Britain was at the forefront of new technology and infrastructure. In 1956, the young Queen opened the world's first nuclear power station, Calder Hall, on the site we now call Sellafield, in Cumbria. With its capacity a fraction of the plant now under construction at Hinkley Point C, it was nonetheless a major event for post-war Britain, going on to generate for 47 years and firing the starting gun for Britain's civil nuclear energy industry.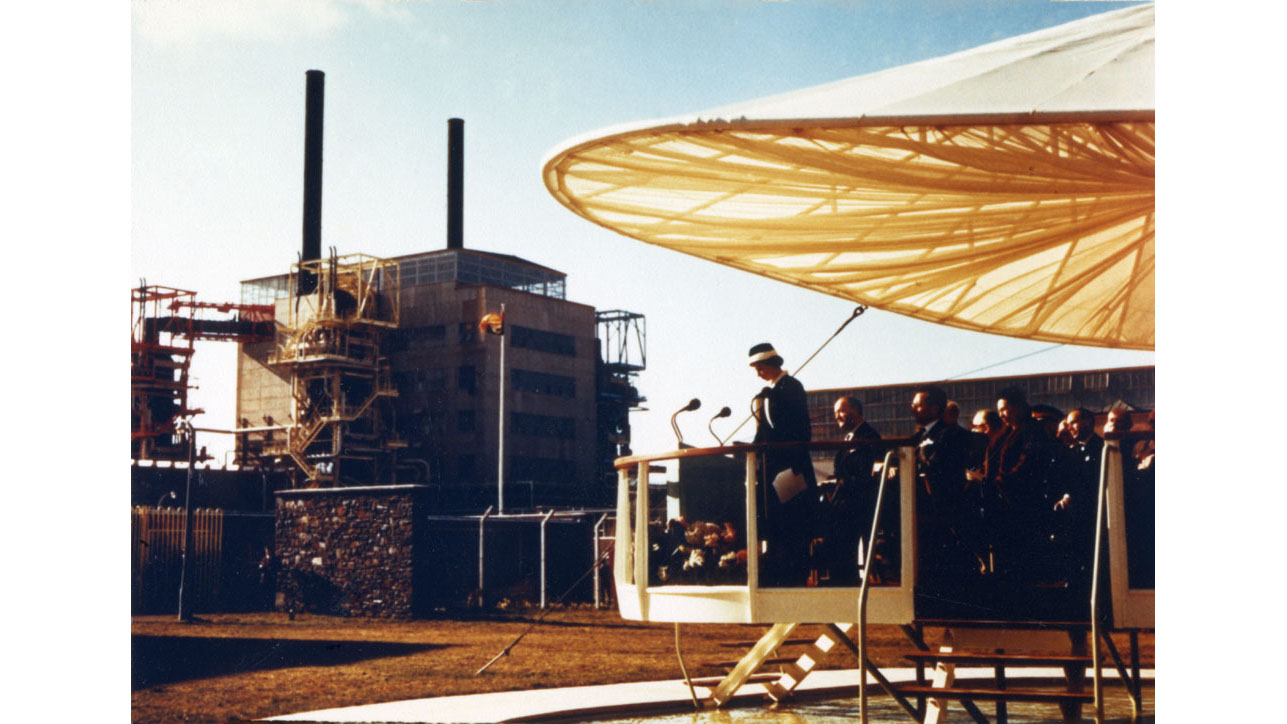 1956 – The young Queen opens the world's first nuclear power station, Calder Hall, in Cumbria
Photo: UK government agencies via Wikipedia Commons
But coal had not gone away. It was still crucial to the British economy – in fact in 1958, the Queen donned white overalls, wellingtons and a helmet to go underground to inspect the new Rothes colliery in Fifeshire. Two years later, she returned to Scotland to open the Kincardine power station, built to take advantage of the expansion of the Fife and Lothian coal fields, and going on to provide a third of Scotland's growing electricity needs.
By the 1970s, Britain's energy landscape was to take another transformational turn, with the discovery of North Sea oil and gas. In 1975 the Queen performed the 'switch on' ceremony for the UK's first oil pipeline. As the oil started flowing from BP's Forties field 180 km off the Aberdeen coast, it marked the city's dramatic shift from fishing town to energy hub and the start of the UK's oil and gas production story.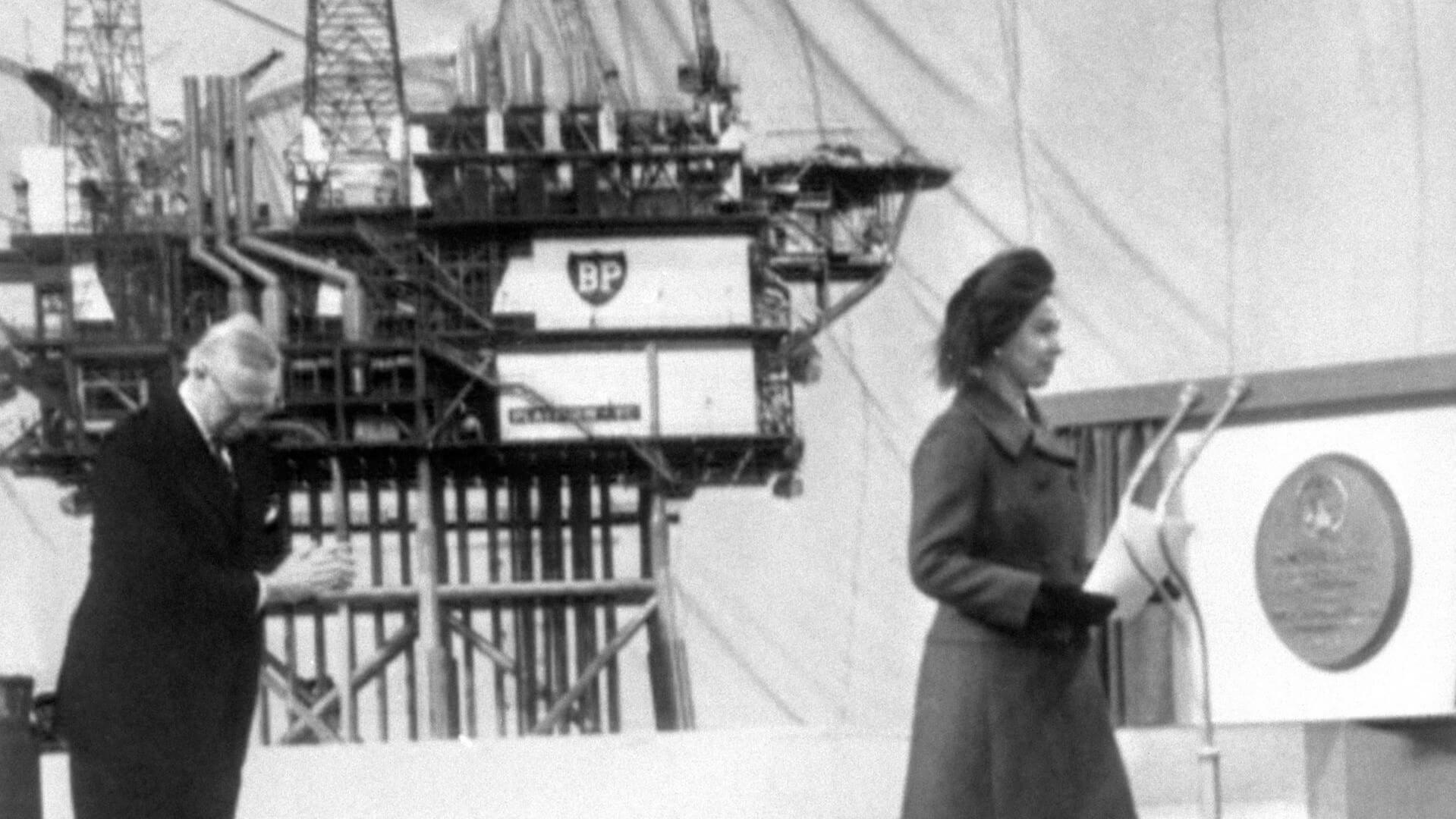 1975 – The Queen performs the 'switch on' ceremony for the UK's first oil pipeline, serving BP's Forties field off the Aberdeen coast
Photo: Alamy
And, as infrastructure to exploit reserves and meet growing demand grew, it was not long before Her Majesty returned. In 1981, she visited Shetland along with His Majesty King Olav of Norway, to open the Sullom Voe oil terminal, handling production from oil fields in the North Sea and East Shetland Basin.
Changing climate
With scientific and public concerns over the impact of fossil fuels on our climate growing over recent decades, and the growth of the renewable energy industry bringing down emissions and diversifying supplies, we've seen the Royal Household itself take demonstrable steps to reduce its environmental impact, demands of the grid and costs. Since the mid-1990s, both Buckingham Palace and Windsor Castle have benefited from efficient on-site combined heat and power units. Some 40% of Windsor Castle's power is sourced from a hydroelectric power scheme on the nearby River Thames.
And the Queen herself has had sight of the burgeoning renewable energy sector that is helping us overcome the environmental disadvantages of conventional forms of energy. In 2016 she travelled to Hull to see first-hand the extraordinary engineering achievements at Siemens' wind turbine blade manufacturing facility, which is helping to meet the growing demands of the UK's offshore wind energy powerhouse.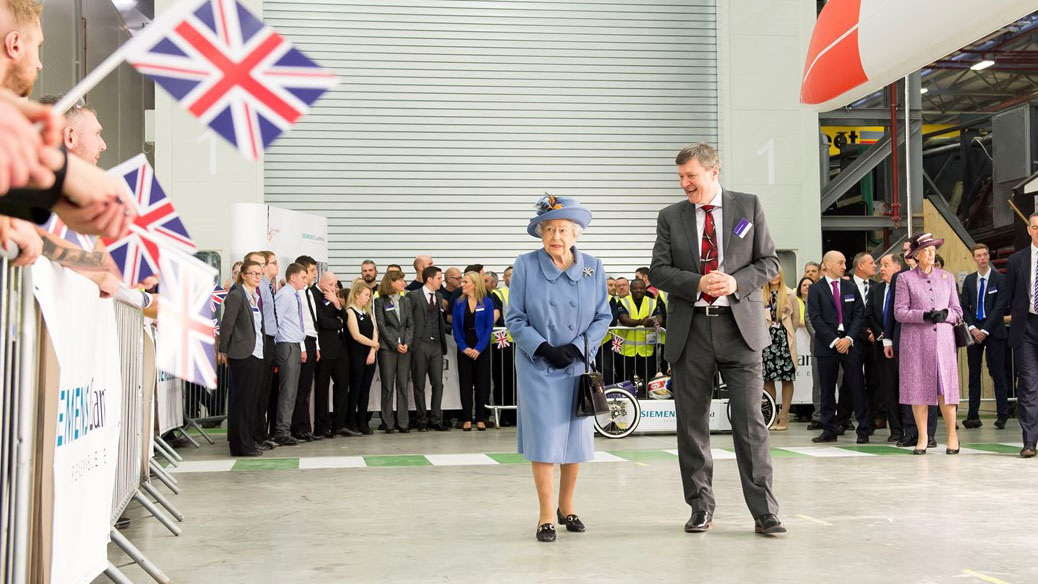 2016 – The Queen visits Siemens' wind turbine manufacturing facility in Hull
Photo: Siemens
I've not been exhaustive in my examples of Her Majesty's relationship with our industry, but equally I don't want to overclaim. By constitutional convention the Queen rarely revealed much of her own opinions, in contrast to some of her immediate family members.
Her son, now King Charles III, is well known for his advocacy for the environment and natural world. He is an Honorary Fellow of the Energy Institute and we are proud to be heavily involved in the energy transition work of his Sustainable Markets Initiative. And her grandson William, the new Prince of Wales, spoke powerfully during the Platinum Jubilee earlier this year: 'Together, if we harness the very best of humankind and restore our planet we will protect it for our children, for our grandchildren and for future generations to come.'
But there have been moments when we've gained a glimpse of the late monarch's own views, most recently when she was caught on a hot mic in the run up to COP26, expressing her frustration about inaction by global politicians: 'It's really irritating when they talk, but they don't do,' she said.
Thankfully, she doubled down on this in the video recording she later sent to world leaders gathered in Glasgow, in my opinion one of the most important messages of her reign. She urged them to 'rise above the politics of the moment and achieve true statesmanship', to 'answer the call of future generations' and 'to recognise that the time for words has now moved to the time for action'.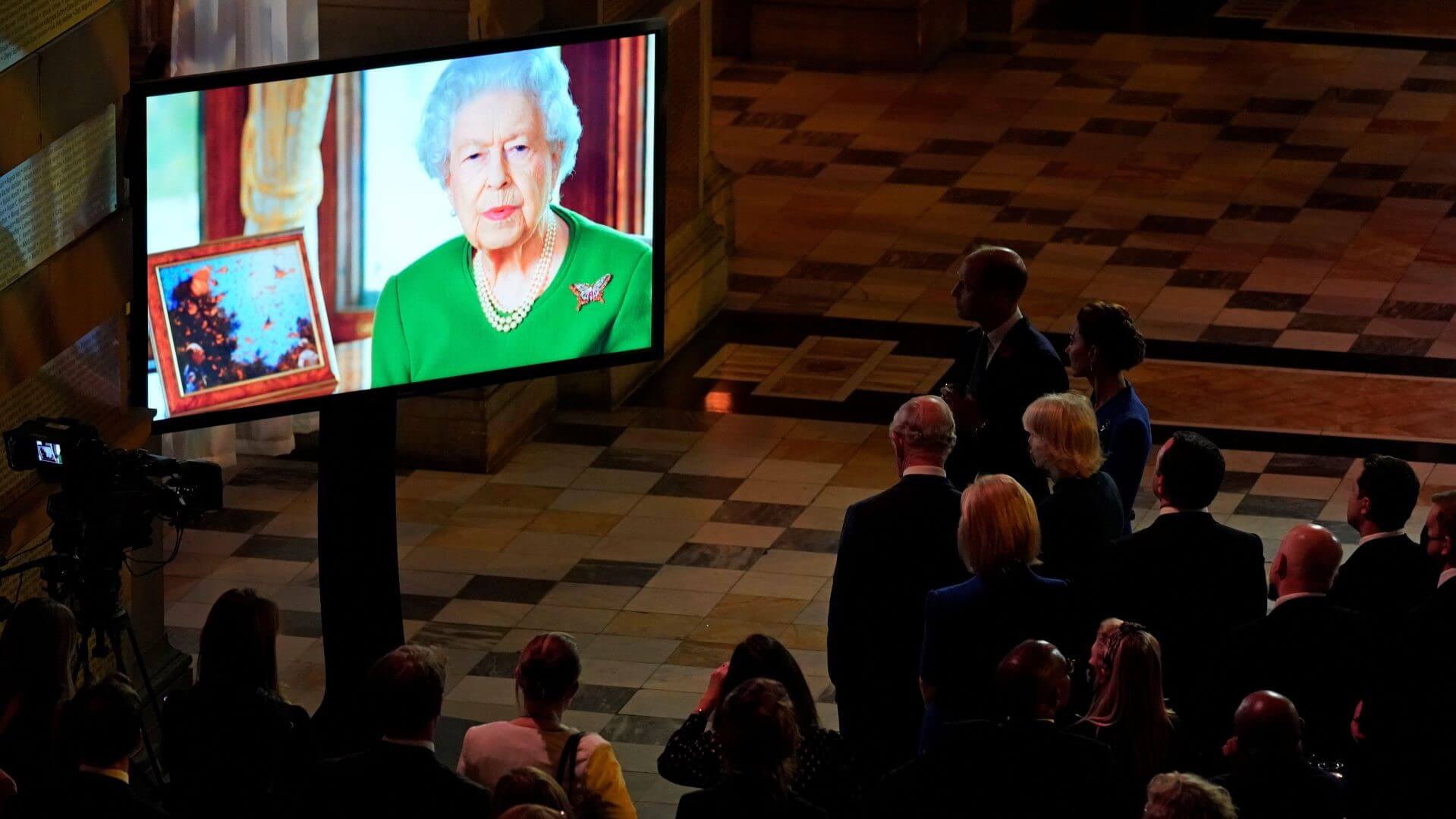 2021 – The Queen addresses world leaders gathered at the COP26 climate summit in Glasgow via video link
Photo: Alamy
Dedicated service
Queen Elizabeth II, our Patron, was associated with many defining moments in Britain's energy story. Though keeping her counsel on her own views, one of her great legacies when we look back at her long reign is the role she has played in making us sit up and notice history in the making.
This week, we are living through another historically significant moment, as we mourn her sad passing and adapt to the accession of a new monarch. I believe it's for us to define this moment by committing to learn from her, and the dedicated service she's given to the public good, as we face perhaps our biggest energy challenges ahead.