Info!
UPDATED 1 Sept: The EI library in London is temporarily closed to the public, as a precautionary measure in light of the ongoing COVID-19 situation. The Knowledge Service will still be answering email queries via email , or via live chats during working hours (09:15-17:00 GMT). Our e-library is always open for members here: eLibrary , for full-text access to over 200 e-books and millions of articles. Thank you for your patience.
Celebrating one-year of reporting on the industry's progress toward net zero
New Energy World

embraces the whole energy industry as it connects and converges to address the decarbonisation challenge. It covers progress being made across the industry, from the dynamics under way to reduce emissions in oil and gas, through improvements to the efficiency of energy conversion and use, to cutting-edge initiatives in renewable and low carbon technologies.
Building the world's largest offshore wind farm
7/9/2022
6 min read
Photo: Deme Group
Once complete, Dogger Bank will be the world's largest offshore wind farm, although curiously sited in relatively shallow water. Brian Davis of New Energy World reports on this ambitious project, which will be capable of powering the equivalent of 6mn UK homes.
Dogger Bank wind farm is located on an isolated sandbank in the central and southern North Sea (famed in BBC weather reports). The project initially received a Development Consent Order in 2015 for development by Forewind, a consortium of SSE, Statoil (now Equinor), Statkraft and Innogy. Four phases were planned originally, split between Statoil and SSE for three phases, with RWE taking the fourth.
Subsequently the three-phase project, Dogger Bank A, B and C, each of 1.2 GW, became a joint venture partnership between SSE Renewables (40%,) Equinor (40%) and Vargronn (20%). SSE Renewables is leading the development, and Equinor will operate the wind farm on completion for its anticipated 35 years' life.
Taking shape
Since consent, three phases have been developing. The Contract for Difference (CfD) was awarded in 2019. Funding was in place by 2020 through a combination of equity and debt finance; initially raising £6bn and topped up to £10bn by December 2022.
Major contracts have been signed and work began on onshore construction in early 2020, along with enabling works and main survey campaigns offshore, explains Alan Borland, Senior Project Manager Dogger Bank Wind Farm at SSE Renewables. 'These enabling works involved casual clearance and start-up of the onshore cabling route and converter station locations,' he says.
The onshore converter stations are located just outside Beverley in Yorkshire, and the cable routes run from there to Bridlington on the Yorkshire coast and offshore to Dogger Bank – about 150 km to phase A (covering 515 km2), 175 km to phase B (covering 599 km2). Phase C, which is about 200 km from the coast (covering 560 km2), will make landfall via cable near Middlesborough in Redcar. Both A and B will connect to the Creyke Beck substation near Cottingham in Yorkshire, and phase C will connect with the Lackenby substation at Teesside.
Offshore construction started this year with export cable installation for Dogger Bank A. Export cable installation is now complete, ready for platform installation. The wind turbine foundation installation campaign began recently. 'The first six foundations have been installed, with turbine installation due to start in April 2023,' reports Borland.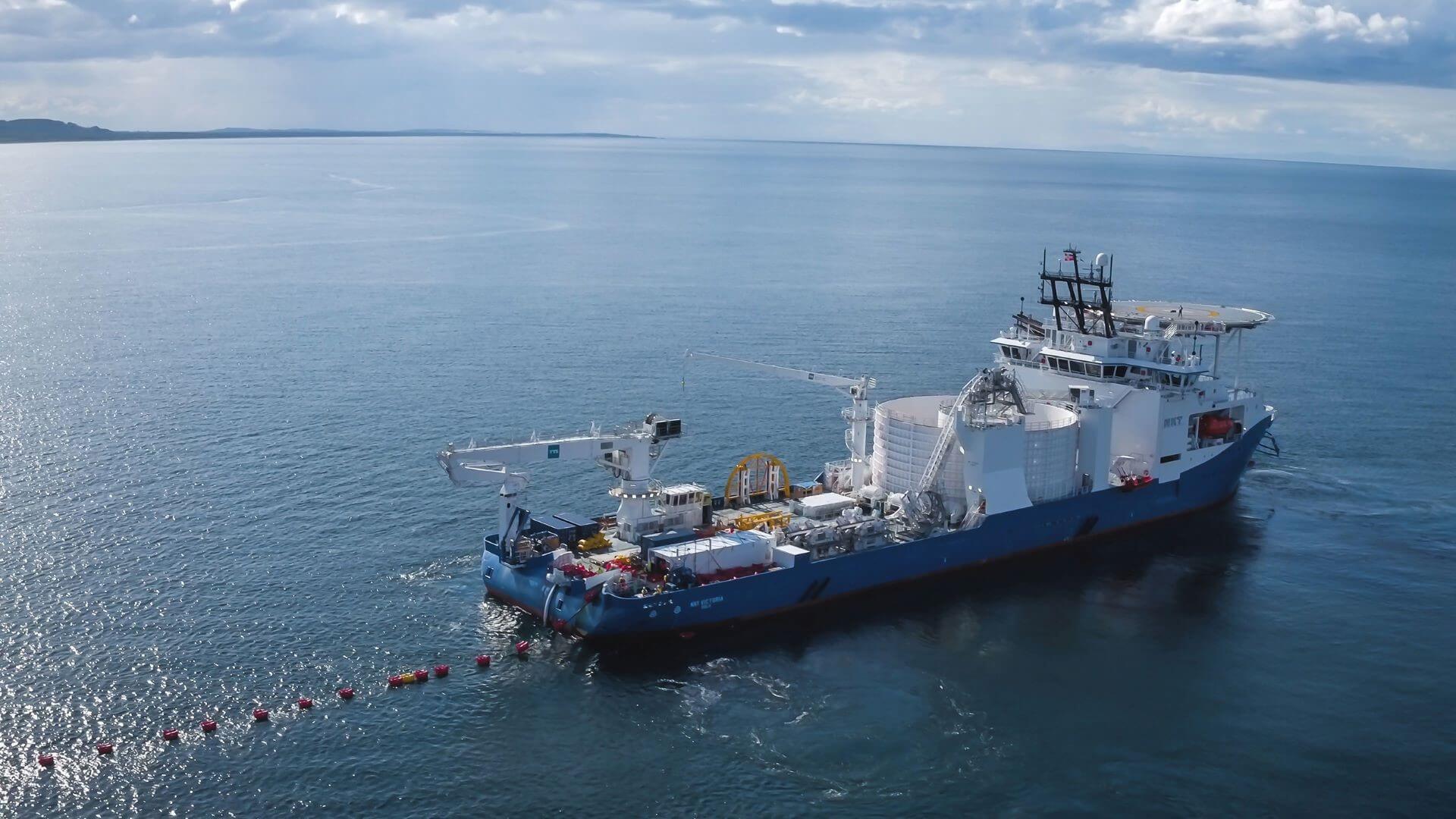 NKT Victoria cable laying for Dogger Bank A wind farm
Photo: NKT
Turbine foundations have been manufactured by Sif and Smulders, with installation on all three phases by Seaway 7, supported by DEME on phase A. The plan is to install 277 turbine foundation monopiles and transition pieces across the three phases of the Dogger Bank wind farm. Offshore turbine foundations have been designed by UK-based Wood Thilsted Design.
Novel safety measure
Safety is a key issue, and a unique split-level transition piece will allow safe access for technicians directly into the turbine tower from service and operation vessels (SOVs), eliminating thousands of manual handling activities and lifting operations over the lifetime of the assets with a simple 'walk to work' approach.
The foundations have been designed for what is arguably the most demanding wave environment to be encountered on an offshore wind farm. The foundations are over 72 metres in length, weigh on average 1,057 tonnes, and include a massive 8 metre offshore wind flange. Installation of GE Renewable Energy's Haliade-X turbines onto each of the installed turbine foundations will commence from spring 2023.
Steel manufactured by Tata Steel in Wales is being used in the supporting components of the transition pieces. However, a large part of the foundation fabrication work is being done abroad at facilities in the Netherlands, Belgium and Poland for load-out via Rotterdam for transfer to Dogger Bank.
Equipment manufacture
In late June 2022, the offshore substation topside built for Dogger bank A arrived in Abel's yard in Haugesund, Norway. This is the first of three platforms that Aibel will deliver to the 3.6 GW Dogger Bank, and was transported from Aibel's yard in Thailand by BigLift Baffin. The platform is being equipped with transformers, slings and lifting equipment.
Aibel and Hitachi ABB Power Grid are supplying all the offshore grid connections for the Dogger Bank wind farm. Aibel expects to finish most of its work by mechanical completion by late 2022, with commissioning for completion by spring 2023.
Saipem will be responsible for the transportation and installation of the Dogger Bank A and B substations, while Seajacks will support the hook-up and commissioning work on all three phases of the project.
The platform will receive electricity from 95 Haliade-X 13 MW wind turbines and convert it to 320 kV of direct current which will then be sent to shore. Dogger Bank will be the first offshore wind project in the UK to use unmanned high voltage direct current (HVDC) technology, which significantly reduces topside weight, according to the developers. Although the platform will be non-manned, it will be serviced by service vessels that will be onsite during operation.
Power to consumers
Once complete, which is scheduled by March 2026, the Dogger Bank offshore wind farm will be able to generate enough renewable electricity to supply about 5% of UK demand, equivalent to powering 6mn homes. Equinor will operate the wind farm on completion, following transition to the OFTO (Offshore Transmission Owner) regime, appointed by the UK energy regulator Ofgem. However, SSE Renewables will still be doing work on the generation side of the assets. Transfer will provisionally be completed by 3Q2024 for phase A, and phases B and C will each follow a year later in 3Q2025 and 3Q2026.
Borland confirms that SSE grid agreements are in place to handle 1,200 MW from each phase of the wind farm. The phase C turbines are higher rated than phases A or B, because of the distance involved. As mentioned, the turbines are built by GE Renewables. The nacelles are being manufactured in Saint Nazaire in France. The blades are being built in Cherbourg, France and Fujan, China. The towers for Dogger Bank A are being built in Bilbao, Spain.
However, contracts have yet to be confirmed for towers for B and C. The controllers come under the GE Renewables scope.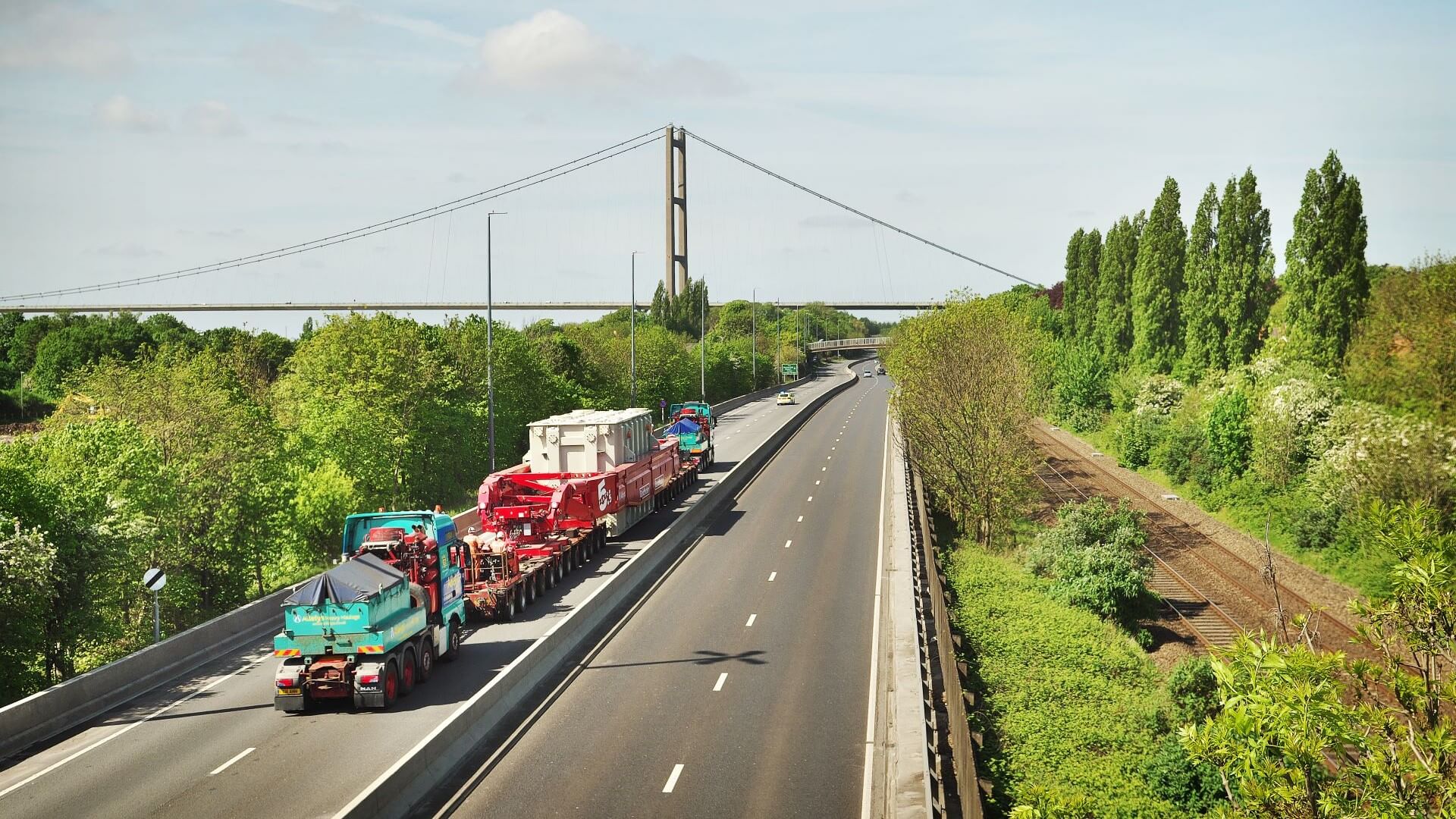 First converter transformer being delivered for Dogger Bank wind farm
Photo: Dogger Bank Consortium

So why does such a high percentage of the wind farm manufacture come from outside the UK, despite government promises that offshore wind farms could generate significant work for British manufacturers and personnel?
Borland maintains that the Dogger Bank consortium's business case clearly supported the CfD options for Ofgem. 'While we considered all aspects and not just the monetary value, ultimately our business case relied on us being awarded CfD under the triple Cs [ie, the triple strategic factors in terms of the customer, company and competitors],' he says.
'We have installed some of the biggest monopiles ever made for foundations, maximised potential power generation using HVDC, while minimising the number of turbines by using the biggest we could get at the time.' – Alan Borland, SSE Renewables
Shallow waters
The rotors will each have a tip height of about 277 metres above sea level, close to the height of the Eiffel Tower. The turbines will be located 1–2 km apart, optimised not just for weather conditions but also the best soil conditions and long-term asset integrity. Turbine positions are also aligned for optimal search and rescue purposes at about 4–5 times rotor diameter to minimise wake losses and vibrations between turbines, as well as minimising power loss.
The offshore infrastructure will feed into the UK national grid. There are no plans to extend generation from Dogger Bank to Norway. The operational design life of the wind farm is likely to be 35 years, using digitalisation techniques such as digital twins to assess the optimal performance capability.
Dogger Bank is not only the world's largest offshore wind farm but is currently the furthest offshore. Located on a sandbank, the water is relatively shallow compared to other offshore wind farm installations. 'This means more challenging weather conditions than a typical shallow water wind farm site, with much higher swells and almost a break effect,' comments Borland. 'Ultimately you prefer shallower water in order to minimise the steel required for foundations. However, the weather conditions can be a challenge compared to a typical, more sheltered shallow water site.'
The wind farm will be operated from a control base in the port of Tyne, being built by D&K Construction.
A digital twin of the wind farm is also being built to assist the operations phase and maintenance campaign regime, to help inform preventative maintenance strategy. A small fleet of service and operation vessels, along with four accommodation vessels, will service the wind farm for two weeks at a time. These will be informed through the digital twin to monitor equipment performance and preventative maintenance.
There will be 65 staff in the operations base and many more offshore.
There are no plans to introduce a hydrogen electrolysis plant at the Dogger Bank wind farm. Hydrogen output was considered at an earlier stage in the project, but the technology wasn't sufficiently developed at the time.
Biggest, newest, tallest…
Significant care is being taken to protect wildlife as part of the Environmental Impact Assessment during the consent process and during ongoing operations. Monitoring continues as part of the consent conditions, to ensure minimal impact on the environment.
A comprehensive decommissioning programme was also submitted as part of the OFTO consent process. The majority of the wind farm is built with metals that can be recycled, and SSE Renewables is part of a working group looking at the re-use of turbine blades and wind farm sustainability issues.
'The most challenging part of the Dogger Bank wind farm project has been the scale,' notes Borland. 'The area is roughly 200 km2, roughly equivalent to the central belt of Scotland. We have brought in the biggest vessels available, such as Jan de Nuul's Voltaire, which can reach higher than the Eiffel Tower, and the Saipem S7000, to maximise opportunities for big lift offshore during the construction phase. We have also installed some of the biggest monopiles ever made for foundations, maximising potential power generation using HVDC, while minimising the number of turbines by using the biggest we could get at the time.'
He concludes: 'Dogger Bank is a massive responsibility, given the complex nature of the project, but it's always interesting. There are challenges, but solving those challenges makes it a fulfilling industry to work in.'