Info!
UPDATED 1 Sept: The EI library in London is temporarily closed to the public, as a precautionary measure in light of the ongoing COVID-19 situation. The Knowledge Service will still be answering email queries via email , or via live chats during working hours (09:15-17:00 GMT). Our e-library is always open for members here: eLibrary , for full-text access to over 200 e-books and millions of articles. Thank you for your patience.
New Energy World

embraces the whole energy industry as it connects and converges to address the decarbonisation challenge. It covers progress being made across the industry, from the dynamics under way to reduce emissions in oil and gas, through improvements to the efficiency of energy conversion and use, to cutting-edge initiatives in renewable and low carbon technologies.
New infrastructure plans for large-scale decarbonisation in north-west Europe
6/7/2022
Photo: Shutterstock
Fluxys and Equinor have unveiled plans for a major infrastructure project to transport captured CO2 to storage sites in the North Sea that they say will offer north-west Europe 'a robust and flexible solution for large-scale decarbonisation'. The carbon capture and storage (CCS) project is in the feasibility stage, with an investment decision expected by 2025.
The project includes a 1,000 km CO2 export trunkline operated by Equinor which will transport CO2 for safe and permanent storage under the seabed on the Norwegian Continental Shelf. The offshore trunkline will connect in Zeebrugge to an onshore CO2 transmission infrastructure built and operated by Fluxys.
The open-access CO2 transmission system will give emitters in Belgium and surrounding countries the opportunity to connect to safe and reliable CO2 stores in Norway, say the partners. Liquefied CO2 shipped from neighbouring hubs could be connected to the Zeebrugge facility, further increasing the geographical reach of the project, while a pipeline branch to the port of Dunkirk is also envisaged and additional connections to other north-west European countries are to be assessed.
Planned to be commissioned before the end of this decade, the offshore pipeline will have a transport capacity of 20–40mn t/y of CO2.
UK's largest carbon capture plant opens
In related news, Northwich-based Tata Chemicals Europe (TCE), one of Europe's leading producers of sodium carbonate, salt and sodium bicarbonate, has officially opened what is claimed to be the UK's first industrial-scale carbon capture and use (CCU) plant. Capturing some 40,000 t/y of CO2 – equivalent to taking over 20,000 cars off the roads – the plant reduces TCE's carbon emissions by more than 10%.
In a reported world first, CO2 captured from energy generation emissions is being purified to food and pharmaceutical grade and used as a raw material in the manufacture of sodium bicarbonate, which will be known as Ecokarb®. The innovative process is patented in the UK, with further patents pending in key territories around the world, says TCE.
The carbon capture plant, which was supported with a £4.2mn grant through the Department for Business, Energy and Industrial Strategy's (BEIS) Energy Innovation Programme, marks a major step towards sustainable manufacturing which will see TCE make net zero sodium bicarbonate and one of the lowest carbon footprint sodium carbonate products in the world. The manufacturer is the only business in the UK to make these products which are used to make essential items in everyday life, from glass, washing detergents and pharmaceuticals to food, animal feed and water purification.
Speaking on the opening of the plant, Business and Energy Secretary Kwasi Kwarteng said: 'This cutting-edge plant, backed by £4.2mn government funding, demonstrates how carbon capture is attracting new private capital into the UK and is boosting new innovation in green technologies. We are determined to make the UK a world-leader in carbon capture, which will help us reduce emissions and be a key part of the future of British industry.'
Already generating heat and electricity from one of the most efficient combined heat and power (CHP) plants in the UK, TCE says it now produces half the amount of CO2 per kW of electricity generated compared to a typical gas fired power station.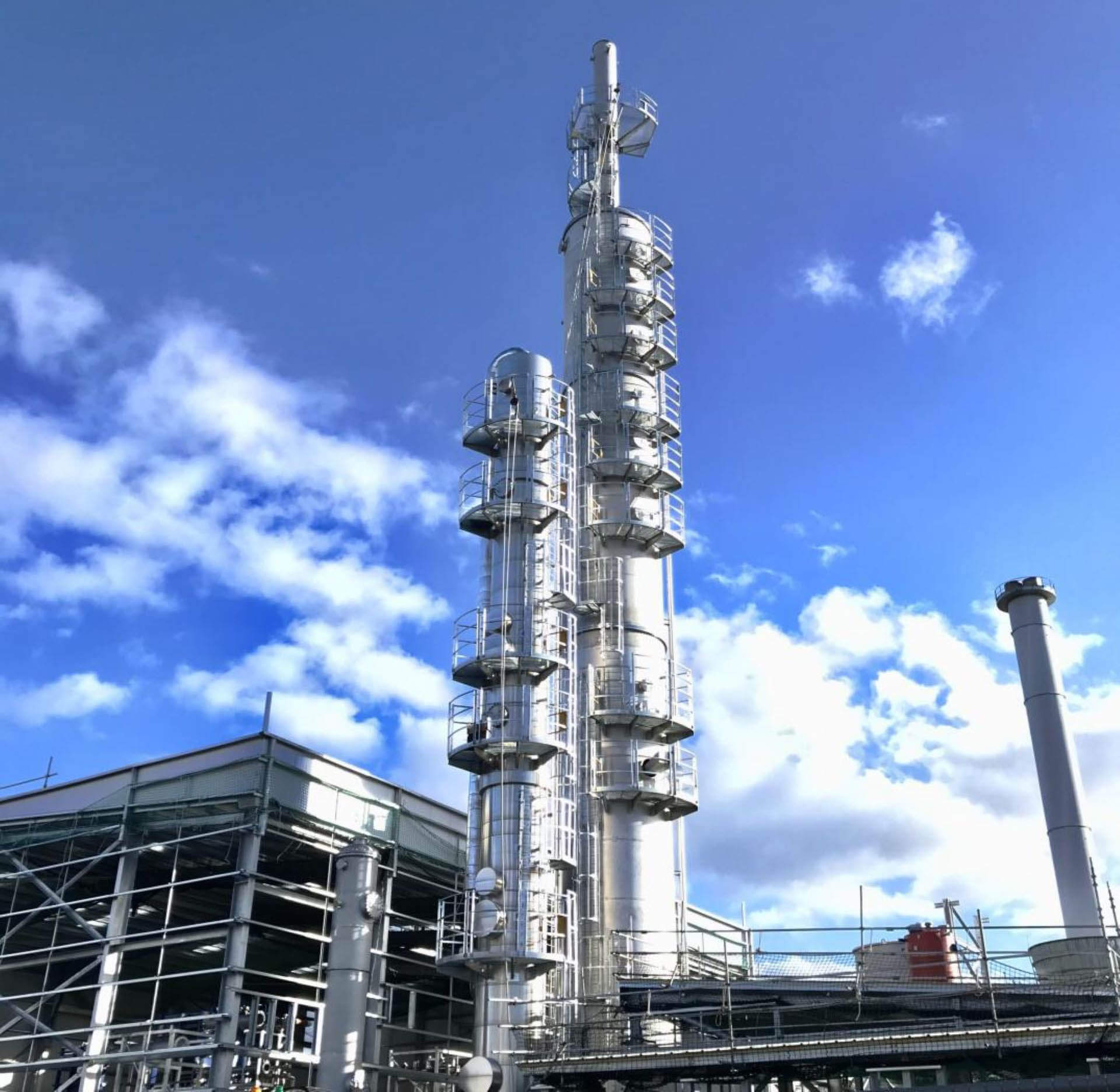 The CO2 captured from energy generation emissions at TCE's UK plant is purified to food and pharmaceutical grade and used as a raw material in the manufacture of sodium bicarbonate
Photo: TCE
Proposed new Chinese CCS hub
Meanwhile, ExxonMobil, Shell, CNOOC and the Guangdong Provincial Development & Reform Commission are to evaluate the potential for a world-scale CCS project at the Dayawan Petrochemical Industrial Park in Huizhou, Guangdong Province, China.
The project could capture up to 10mn t/y of CO2, supporting China's ambition of carbon neutrality by 2060. It could also serve as a model for the chemical industry as one of the first petrochemical projects to be decarbonised, say the project partners.