Info!
UPDATED 1 Sept: The EI library in London is temporarily closed to the public, as a precautionary measure in light of the ongoing COVID-19 situation. The Knowledge Service will still be answering email queries via email , or via live chats during working hours (09:15-17:00 GMT). Our e-library is always open for members here: eLibrary , for full-text access to over 200 e-books and millions of articles. Thank you for your patience.
New Energy World

embraces the whole energy industry as it connects and converges to address the decarbonisation challenge. It covers progress being made across the industry, from the dynamics under way to reduce emissions in oil and gas, through improvements to the efficiency of energy conversion and use, to cutting-edge initiatives in renewable and low carbon technologies.
Decommissioning to meet net zero target
11/5/2022
8 min read
Photo: DOF Subsea
Decommissioning of oil and gas infrastructure on the UK Continental Shelf (UKCS) is gaining momentum following the challenges of the global pandemic. Looking to the future, safe, innovative and environmentally friendly decommissioning has a key role to play in the energy transition. Brian Davis reports.
The UK decommissioning industry is recognised for innovation and safe practice. It keeps a close eye on environmental performance, cost reduction and, increasingly, emissions reduction on the road to net zero.
According to the 2021 cost estimate report from the Oil & Gas Authority (OGA), now renamed the North Sea Transition Authority (NTSA), the total cost of the industry's decommissioning bill fell by 23% in 2021. Decommissioning cost £46bn in 2021, but the OGUK's (now called OEUK) Decommissioning Insight 2021 report recognises that there is more to do to reach the 35% reduction target by 2022.
New contracting practices and multi-operator campaigns are enabling work scopes to be aggregated, along with the creation of a world-class supply chain. The NTSA predicts that £16.6bn will be spent on decommissioning in the next decade. New technology is playing a key role with the Net Zero Technology Centre (NZTC) seen as a key focus of innovation.
As one of the world's most mature oil and gas basins, the North Sea has become an incubator of significant decommissioning expertise. Although the central and northern North Sea dominate UK decommissioning expenditure, British know-how is being utilised in the Gulf of Mexico, off the coast of West Africa, and in the Asia-Pacific.
Well decommissioning – plug and abandonment (P&A) – accounts for 50% of decommissioning expenditure. In the UKCS, £8,000bn was spent on 1,782 wells last year; 125 topsides were removed and 115 jackets decommissioned. Increasingly there have been opportunities for recycling, re-use and repurposing of structures, supporting the circular economy.
There is also a significant move to reduce emissions from decommissioning, which is recognised to be an energy-intensive exercise.
Net zero decomm – a new opportunity
'Decommissioning is definitely stepping up in the North Sea and globally,' says Dr Deborah Morgan, Environmental Decommissioning Team Lead of Xodus Group. 'Every decommissioning project is different,' she notes.
Historically, the Brent Spar triggered a complete rethink of decommissioning. In 1995, Shell applied for disposal of the structure in deep Atlantic waters. Greenpeace organised a high-profile campaign against the plan and occupied the structure. Since then, the industry has transformed decommissioning operations.
Under the 98/3 OSPAR Convention for environmental protection in the North-East Atlantic, all offshore oil and gas structures under 10,000 tonnes must be removed when they reach end-of-life, with wells plugged safely, pipelines removed and the seabed left in a clear state with regular monitoring.
About 7% of UKCS structures have been decommissioned, so there is a large backlog of North Sea platforms awaiting the go-ahead for full or partial decommissioning. Under OSPAR terms an operator can apply for derogation of a platform where the jacket is greater than 10,000 tonnes. The regulator can then decide whether it is feasible to remove the whole platform or leave footings on site. Pipelines also go through a process called comparative assessment, based on five criteria – environmental, social, safety, technical and economic.
'Currently, technology is not available to remove concrete gravity-based structures without massive costs and emissions,' explains Morgan. 'According to my calculations, it is "off the scale" compared to steel jacket removal.'
Typically, about 95% of an offshore structure is recycled, with re-use and repurposing increasingly employed to reduce emissions.
Novel uses of materials include using recovered tubulars for the new Aberdeen exhibition centre; grinding concrete mattresses into aggregate for the new harbour in Aberdeen; and creating a Sea Monster art installation in Weston-super-Mare from a retired offshore rig. Less prosaically than the latter, the NSTA favours re-using some pipelines for carbon capture and storage (CCS) schemes.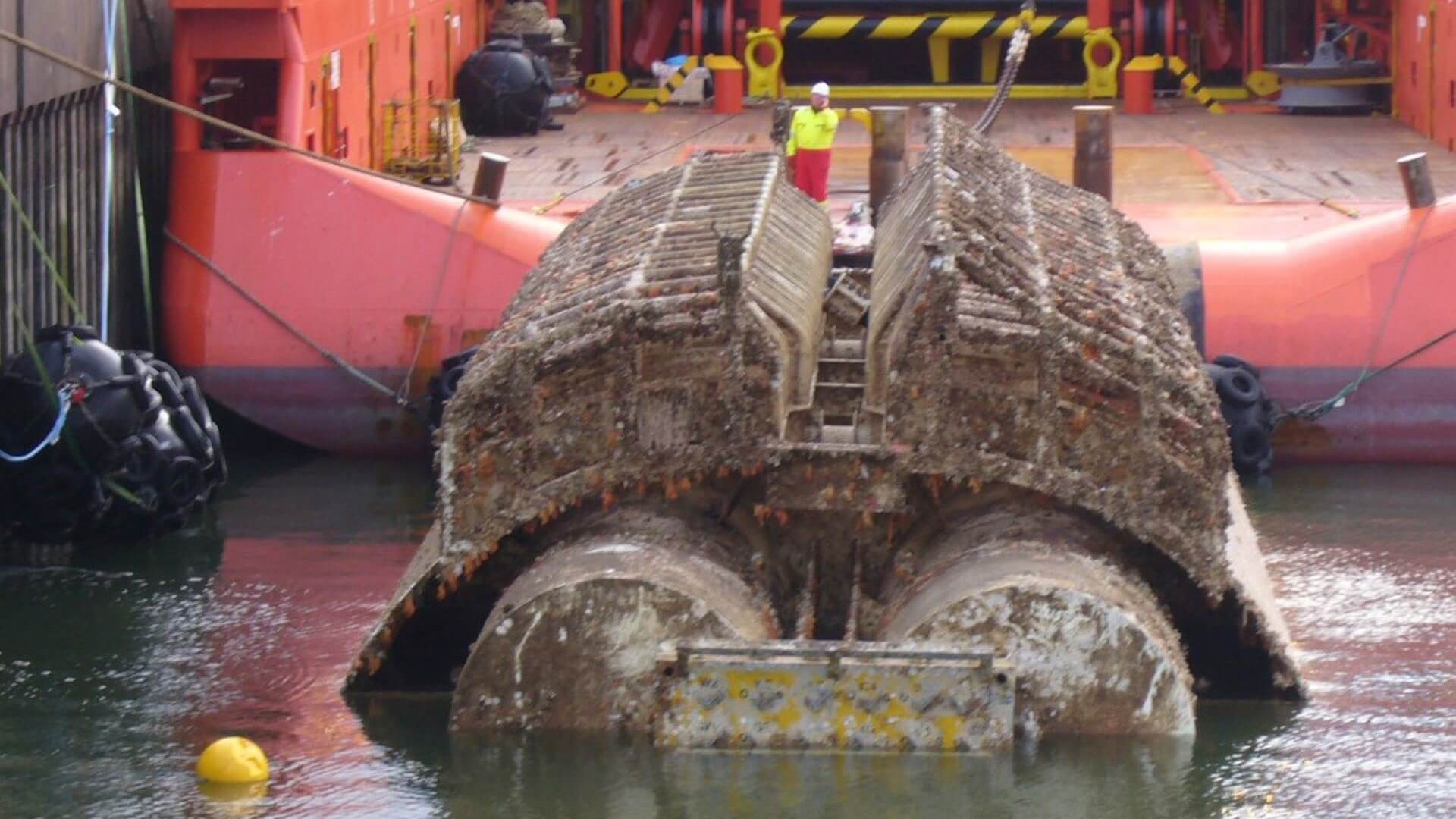 Decommissioning on the Buchan and Hannay fields by DOF Subsea
Photo: DOF Subsea
Over the next decade more than 1mn tonnes of topsides are expected to come from the North Sea for re-use or recycling, according to UKOE. 'From a lifecycle aspect, steel re-use can be very emissions intensive as the smelting of 1 tonne of steel can produce 1.6 tonnes of CO2 – which means massive emissions could be created over the next decade,' Morgan comments.
That's where comparative assessment comes in.
'From an environmental perspective, one decommissioning impact may contradict another.' – Dr Deborah Morgan, Environmental Decommissioning Team Lead, Xodus Group
The decommissioning programme is submitted with an environmental appraisal and comparative assessment to the Offshore Petroleum Regulator for Environmental Decommissioning (OPRED), which sits in the Department for Business, Energy and Industrial Strategy (BEIS). The operator has to figure out the best environmental solution, taking into account nature conservation and fisheries stakeholders. However, the comparative assessment is only used (along with an environmental appraisal) if there are options that might involve decommissioning a structure in situ.
Rigs-to-reefs
Some mature rigs have been converted to marine reefs in the Gulf of Mexico and a few other US locations. To safely and efficiently decommission nine platforms, 200 wells and 32 pipeline segments offshore Gulf of Mexico, British provider of oilfield services Petrofac and a pure-play decommissioning operator Promethean Decommissioning recently formed an alliance.
Woodside Petroleum is also proposing one of the first marine reef conversion initiatives offshore Australia. However, no such schemes have yet been put forward for the UKCS.
'Getting the idea across to the public that there's an environmental benefit for converting rigs-to-reefs in sea they can't see, versus the emissions involved in taking bits of a platform back to shore and recycling, is still a challenge,' says Morgan. 'The public is still nervous about oil platform decommissioning since Brent Spar. And the oil and gas industry has to do a lifecycle emissions calculation of the benefits of leaving parts of a structure in place against removing, recycling and repurposing material.'
'I'm hoping that success stories from elsewhere round the world will help us get the idea of the benefits of some rigs-to-reefs across to the public,' she says.
Net zero agenda impact
So, how does the North Sea Transition Deal impact decommissioning plans?
Morgan maintains that the deal is more about the re-purposing and re-use of structures, rather than decommissioning. 'Decommissioning emissions aren't really captured in the net zero picture. I would like to see key performance indicators for the supply chain in terms of emissions. This is a big issue. We don't report emissions at the end of a decommissioning project, so emissions aren't part of the operator's overview.'
Professor Paul de Leeuw, Director of the Energy Transition Institute at Robert Gordon University, reckons that the net zero transition has fundamentally shifted the focus on decommissioning. 'Previously, the environmental impact of decommissioning was key but never around net zero. However, the moment the UK government and the devolved governments put net zero into formal legislation (with the 2050 target in the UK and 2045 in Scotland ) it fundamentally shifted the agenda.'
'Nobody argues about net zero… it's all about the journey and how to get to net zero,' he adds.
Considering Scope 1, 2 and 3 emissions activities, de Leeuw suggests there are three key issues. How to reduce operational emissions as you remove late-life assets. How to switch between cessation of production and full decommissioning. And how to handle physical decommissioning, with a focus on re-use and repurposing. 'Today, there is more focus on finding the right solution, taking into account full cycle emissions,' de Leeuw says.
The NZTC is focused on innovation, including plugging wells using thermite plugs, smart cement plugs and self-fixing cement, rig-less tubular removal, new milling techniques, rig-less well abandonment, and remedial solutions if P&A operations hit challenges – all aimed at working smarter, greener and reducing costs.
Robert Gordon University is focused on the optimisation of drilling operations and has developed a well simulator to run well P&A scenarios, particularly where there is little data on suspended wells.
Looking towards the energy transition and future decommissioning, de Leeuw notes: 'One of the big lessons from the oil and gas sector is to design wind farms with removal and decommissioning in mind. UK oil and gas platforms were never designed with decommissioning planned. In addition, structures should be designed for recycling. This is an important issue because the composite materials used in the wind sector are not easy to recycle.'
De Leeuw agrees with Morgan that the OSPAR Conventions and agreements didn't have net zero or climate change in mind and this should be addressed. 'The net zero agenda changes the conversation dramatically. A huge amount of CO2 gets emitted during decommissioning. The intention was clear years ago when we signed those agreements. But now the focus should be on the climate emergency as well as the environmental impact.'
'All decommissioning options should be on the table in the light of net zero obligations.' – Professor Paul de Leeuw, Director of the Energy Transition Institute at Robert Gordon University
P&A perspective
Well-Safe Solutions is a specialist P&A delivery contractor. 'The decommissioning business is still in its infancy,' reflects Matt Jenkins, Chief Operating Officer of Well-Safe Solutions. P&A accounts for the lion's share of decommissioning costs. 'We believe that campaign execution of well P&A is by far and away the best way of delivering not only lowest cost but lowest emissions. Fundamentally the road to net zero and the road to cost reduction are inextricably linked.'
What's more, P&A is fundamentally different from drilling and completion at the front end, he explains. 'So, the culture and mindset of executing P&A needs to be different.' Campaigns are also increasingly collaborative 'which is something the oil and gas sector hasn't aways been good at', he notes.
Over past decades there have been several single operator campaigns, like Ivanhoe/Rob Roy for Hess, Shell's Brent campaign and the ConocoPhillips/Chrysaor (now Harbour Energy) campaign in the southern North Sea. 'All three projects demonstrated a significant learning curve, which is never down to one silver bullet: decommissioning comes down to teams of contractors, sharing and implementing those lessons from one well to the next. Those were large-scale projects with a single operator. There is opportunity for smaller campaigns to be bolted together to achieve the same result. And that's what we are very much set up to do,' explains Jenkins.
Well-Safe Solutions has just initiated its first multi-operator campaign with the Well-Safe Guardian, and is in the early stages of a two-year P&A campaign on the Hannay field for Repsol Sinopec Resources UK.
DOF Subsea has provided project management, engineering, preparation, removal and disposal services at the Buchan and Hannay fields. It achieved a 99% recycling and repurposing of recovered materials, using DOF Subsea's Skandi Acergy and Skansen vessels to recover 135 concrete mattresses,12 km of pipelines, manifolds, umbilicals and debris. DOF worked closely with Scotoil Service to handle any naturally occurring radioactive material (NORM) contaminated waste in recovered products.
'These days our drive is to reduce our carbon emissions in line with government regulations. This goal is set out annually in our global improvement plan,' says Stuart Nelson, Project Manager, DOF Subsea. 'We are now using software tooling to identify peak points for vessel fuel usage – which is large for a fleet of 50 vessels. The amount of fuel used is determined by the operating mode of each vessel. And we plan for longer transit times to reduce fuel usage and emissions, in line with the client's environmental impact statement and OGA requirements.'
Today, there is a new balance between decommissioning and environmental requirements on the road to net zero.