Info!
UPDATED 1 Sept: The EI library in London is temporarily closed to the public, as a precautionary measure in light of the ongoing COVID-19 situation. The Knowledge Service will still be answering email queries via email , or via live chats during working hours (09:15-17:00 GMT). Our e-library is always open for members here: eLibrary , for full-text access to over 200 e-books and millions of articles. Thank you for your patience.
New Energy World

embraces the whole energy industry as it connects and converges to address the decarbonisation challenge. It covers progress being made across the industry, from the dynamics under way to reduce emissions in oil and gas, through improvements to the efficiency of energy conversion and use, to cutting-edge initiatives in renewable and low carbon technologies.
Synchronous condensers deliver vital inertia for grid stability
11/5/2022
6 min read
Photo: ABB
The increasing penetration of renewables in power grids is reducing the inertia that is essential for their stable operation. Here, Kristina Carlquist, General Manager – Synchronous Condensers, ABB, explains how synchronous condensers can restore the balance for both urban networks and remote islands.
Centralised architecture has been used across the world's power grids throughout most of their 100-year-plus history. Based around large fossil fuel power stations in urban centres, it provides a linear path for the electricity to flow over transmission and distribution networks to consumers. This has delivered exceptional stability and security of supply.
However, there is a new imperative to decarbonise power production and integrate large levels of renewable energy – and this is forcing networks to evolve. Our grids will soon look very different.
In addition to grids becoming decentralised, their large fossil fuel plants are now being replaced by renewable energy, usually intermittent wind and solar power. This has resulted in a dramatic reduction in the amount of spinning inertia in the grid, otherwise known as kinetic reserve. Inertia is vital to resist sudden changes, such as when a generator trips offline, so that the grid frequency remains within tightly controlled limits.
It is rather like a car's shock absorbers smoothing out a sudden bump in the road to keep it safely on course. Power grids rely on their inertia to keep them in balance.
Utilities, power generation companies and owners of private networks are seeking ways to restore this reserve of inertia. One potential solution is the well-proven technology of synchronous condensers (SCs). These large rotating devices restore physical inertia to deliver instantaneous support for grids, enabling them to maintain stability irrespective of the upstream network voltage or frequency.
Synchronous condensers explained
Synchronous condensers are large rotating electric machines. They are not motors; they do not drive anything. Nor are they generators, since they have no prime movers. Historically, they were used to produce reactive power, balancing out highly inductive loads, such as electric motors.
While SCs were once ubiquitous in power grids, over the past 50 years or so their reactive power role was replaced by power electronics equipment. But now the changing nature of grids, and concerns over the loss of inertia, have stimulated new interest in SCs. This is because they can mimic the operation of large generating plant by providing an alternative source of spinning inertia. As large rotating machines, SCs can both supply and absorb reactive power, delivering voltage support and dynamic regulation.
A major advantage of SCs is that they are a very cost-effective and reliable way to maintain power quality. They provide the fault current protection essential for the strengthening of a weak grid. This is a key enabler for introducing more renewables on the grid.
Typically, SCs are supplied in ratings up to 80 MVAr (megavolt amperes of reactive power) and 3–15 kV system voltage. Higher outputs are reached by using several modules together. This offers better redundancy and availability compared to one large unit.
SCs are tailored for specific locations, according to network studies. This enables the creation of pre-designed SC packages that are easy to transport, install, commission and integrate. They are based on small- or medium-sized modules that can be strategically sited for optimal results. This provides a decentralised solution to increase grid strength and stability.
Lister Drive Greener Grid project
ABB is currently delivering a contract for Europe's largest renewable energy producer, Statkraft, to design, manufacture and install two high-inertia SC systems for the Lister Drive Greener Grid project in Liverpool, UK. This innovative project will play a key role in stabilising the local grid to handle more wind and solar power. This will help National Grid meet its target of operating a zero carbon electricity system by 2025.
The project is the first anywhere in the world to feature a high-inertia SC configuration. This couples a 67 MVAr SC with a 40 tonne flywheel that increases the instantaneously available inertia by 3.5 times.
The advantage of combining a mid-sized SC with a flywheel is that it multiplies the inertia several times, while the losses will be much lower compared to installing the whole inertia as SC. This is also a cost-effective way of using up to two mid-sized SCs coupled together with the benefits of a high level of redundancy, increased inertia and greater controllability.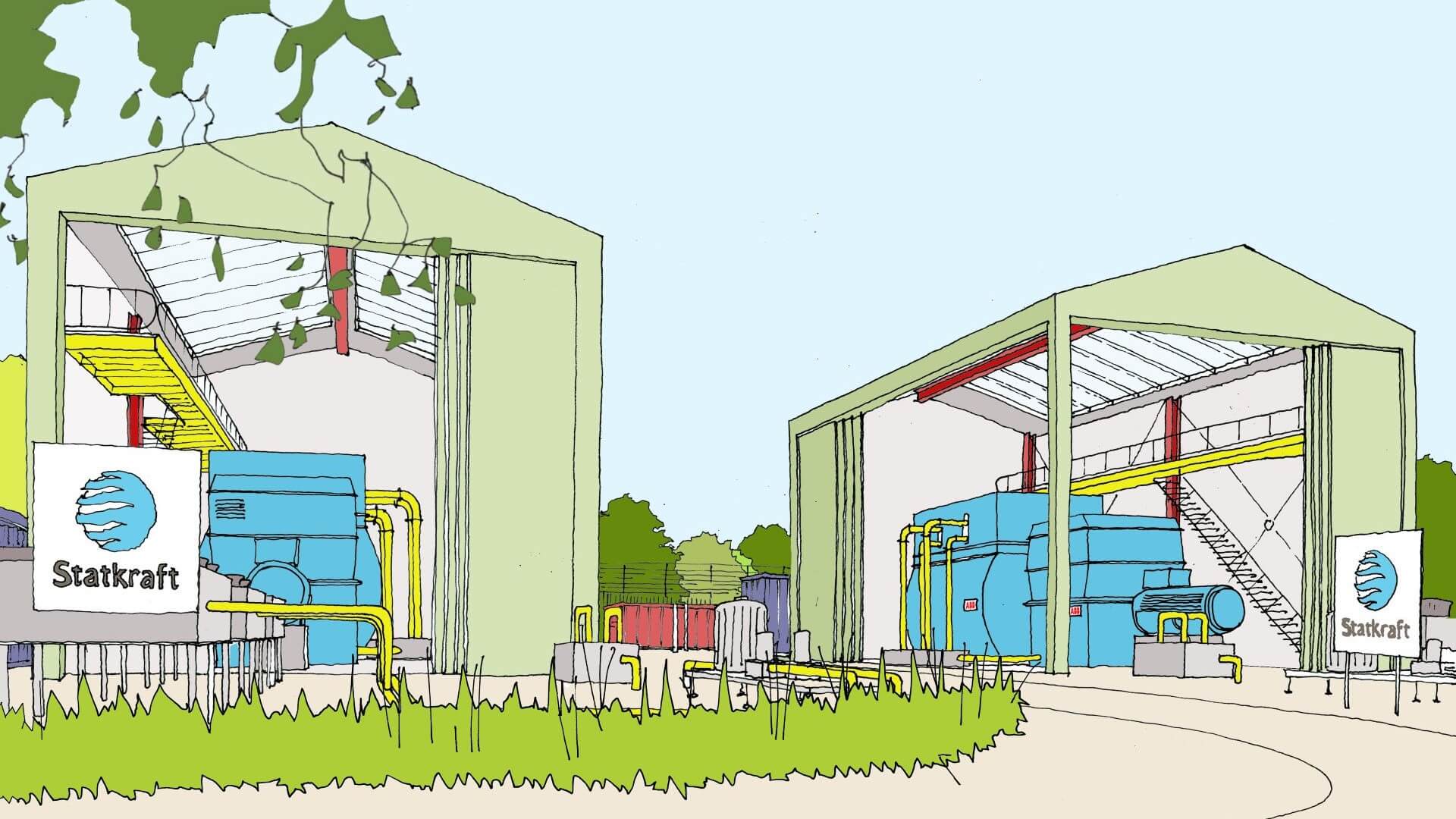 Artist's impression of the Lister Drive Greener Grid project in Liverpool
Image: ABB
Supporting the Faroe Islands' net zero goal
The Faroe Islands in the North Atlantic will rely on SCs to reach an ambitious 100% renewable energy target by 2030. They want to become the world's greenest group of islands.
The islands' power utility, SEV, intends to use green electricity from hydropower, solar, wind and, potentially, tidal streams. The initiative also holds economic benefits for the Faroes since they will no longer be dependent on expensive fossil fuel imports.
However, switching off the current diesel-fuelled generating plant could impact the stability of SEV's grid. This is because the large rotating equipment provides vital inertia that keeps the system in balance. Any grid instability could affect the fish processing and aquaculture industries that are a major contributor to the Faroese GDP. A particular challenge is that there are no power cables connecting the Faroe Islands to neighbouring countries, so external grid support isn't available.
To tackle this challenge, ABB is working with SEV to deliver SCs to keep the grid in balance.
The first SC installation is at the 6 MW Porkeri wind farm on Suðuroy, the southernmost, electrically isolated island of the archipelago. This unit, manufactured at ABB's factory in Sweden, is currently undergoing trial operations and is scheduled to be fully up and running during 1H2022. Together with battery energy storage, the SC could enable 100% of the islands' demand to be met with wind energy at times with good wind conditions.
SEV has placed an order for a similar unit at Sund, close to Tórshavn, the Faroese capital on the island of Streymoy. The unit is scheduled to be online in 2023.
SCs will be crucial for future grids
The world's power grids are adapting to an increasing penetration of distributed renewables, while large, centralised fossil fuel power plants are being decommissioned. This is creating a perfect storm that is forcing profound change in the structure of electricity networks.
The networks of the future will require decentralised solutions to maintain grid stability and resilience. SCs are a well-proven solution that can be deployed to strengthen weak networks in remote areas. They offer a number of advantages such as inertia support for frequency stability, fault level contribution and voltage regulation. These are all functions that can be demanding to provide using power electronic systems on their own.
In addition to grids becoming decentralised, their large fossil fuel plants are now being replaced by renewable energy, usually intermittent wind and solar power, which has resulted in a dramatic reduction in the amount of spinning inertia in the grid.
It is anticipated that the need for SCs will continue to grow as grid operators seek new approaches to address network quality issues and ensure reliability and continuity of supply. Over the next decade we could see several hundreds of SCs deployed, either on their own or in combination with static power electronic devices.
The scope for SCs is shown by the fact that the two units in Liverpool will provide a total of more than 900 MWs (megawatt seconds) of inertia. That compares with the UK's current total of around 220 GWs (gigawatt seconds). Therefore, the Lister Drive project will provide about 0.5% of the UK's total inertia. While that is initially a relatively small contribution, the traditional source of inertia will continue to diminish. SCs will be required to fill the gap.
The same pattern is likely to be repeated globally. SCs are already playing a vital role in reinforcing networks in Australia, Canada and Scotland, supporting a wide variety of applications from solar power farms to remote mining operations. As the urgency to decarbonise grows, the expectation is that synchronous condensers will continue to put a new spin on maintaining grid stability.