Info!
UPDATED 1 Sept: The EI library in London is temporarily closed to the public, as a precautionary measure in light of the ongoing COVID-19 situation. The Knowledge Service will still be answering email queries via email , or via live chats during working hours (09:15-17:00 GMT). Our e-library is always open for members here: eLibrary , for full-text access to over 200 e-books and millions of articles. Thank you for your patience.
New Energy World

embraces the whole energy industry as it connects and converges to address the decarbonisation challenge. It covers progress being made across the industry, from the dynamics under way to reduce emissions in oil and gas, through improvements to the efficiency of energy conversion and use, to cutting-edge initiatives in renewable and low carbon technologies.
Global energy markets face unprecedented uncertainty and a 1.5°C pathway remains increasingly challenging
4/5/2022
Photo: Shutterstock
The latest Global Energy Perspective report from McKinsey & Company finds that global energy markets 'face unprecedented uncertainty' as the economic rebound after the COVID-19 pandemic has triggered price spikes for multiple commodities, and the conflict in Ukraine has led to further increasing energy prices and security of supply concerns. As a result, a 1.5°C pathway remains 'increasingly challenging'.
Including analysis to help calibrate the invasion of Ukraine with the longer-term energy transition momentum, the report presents five energy scenarios (see Fig 1) that cover a spectrum of possible outcomes ranging from strong decarbonisation in line with many of the recent net zero pledges to a scenario that sees fading momentum for a transition of the global energy system.
Five key insights can be derived from the report:
1: While governments and businesses are increasingly committed to steep decarbonisation targets, energy markets face extreme volatility driven by geopolitical tensions and a rebound in energy demand.
The conflict in Ukraine, as well as other factors, have triggered significant peaks in energy prices as uncertainties around supply security and affordability are paramount. This comes at a time where markets are already tight following the COVID-19 rebound.
Throughout 2021, global energy demand and emissions increased by 5% compared to 2020, almost reaching pre-COVID-19 levels (~33 Gt energy-related CO2e).
In the context of COP26, a total of 64 countries (accounting for 89% of global CO2 emissions) have made net zero pledges, while financial institutions and private sector enterprises also continue to increase their decarbonisation aspirations.
2: Going forward, the energy mix is projected to shift toward power. By 2050, electricity and enabling hydrogen and synfuels could account for 50% of the energy mix.
Electricity demand is projected to triple by 2050 as sectors electrify and hydrogen and hydrogen-based fuels increase their market share due to decarbonisation.
Renewable generation is projected to reach 80–90% of the global energy mix by 2050 as the global build-out rates for solar and wind grow by a factor of five and eight respectively.
Hydrogen demand in new sectors could reach 350–600mn t/y in 2050 (compared to ~80mn t/y today); global demand for sustainable fuels is expected to mature, reaching 8–22% of all liquid fuels by 2050.
3: The projected peak in demand for fossil fuels continues to move forward; demand for oil is projected to peak in the next five years.
Peak oil demand is projected to occur between 2024–2027* driven largely by EV uptake – a development that is already underway. Coal demand peaked in 2013 and, after a temporary rebound in 2021, is projected to continue its downward trajectory.
The conflict in Ukraine is leading to price spikes as the market and consumers balance supply security and affordability.
Toward 2035, gas demand across all scenarios is projected to grow another 10–20% compared to today*; after 2035, gas demand will likely be subject to larger uncertainties, driven especially by the interplay with hydrogen.
Some 2–4 Gt* of CO2 will need to be captured by carbon capture, use and storage (CCUS) by 2050 to decarbonise heavy industries where fossil fuels continue to play a significant role.
4: Even if all countries with net zero commitments deliver on their aspirations, global warming is projected to reach 1.7°C by 2100.
All scenarios require substantial shifts to occur across the energy landscape. Even in the Current Trajectory scenario, significant investments will likely be required to kickstart new technologies.
With current government policies, additional commitments, and projected technology trends, global warming is projected to exceed 1.7°C, making a 1.5°C pathway increasingly challenging.
To keep the 1.5°C pathway in sight, the global energy system may need to accelerate its transformation significantly, shifting away from fossil fuels toward efficiency, electrification, and new fuels, quicker than even the announced net-zero commitments.
5: Total investments across energy sectors are projected to grow by more than 4%/y and are forecast to be increasingly skewed towards non-fossil and decarbonisation technologies, while returns remain uncertain.
Annual investments in energy supply and production are expected to double by 2035 to reach $1.5–1.6tn*; almost all growth is expected to come from decarbonisation technologies and power, which will by 2050 exceed today's total energy investments.
Earnings before interest and taxes (EBIT) in decarbonisation technologies and power is expected to grow by 5%/y, and could outpace the growth in underlying investments.
Business models in a highly decarbonised system are expected to remain uncertain across sectors, and will likely rely on adjustments in market design (for example, capacity payments for flexible thermal power generation), subsidies, or other support mechanisms (for example, support for CCUS on top of CO2 prices).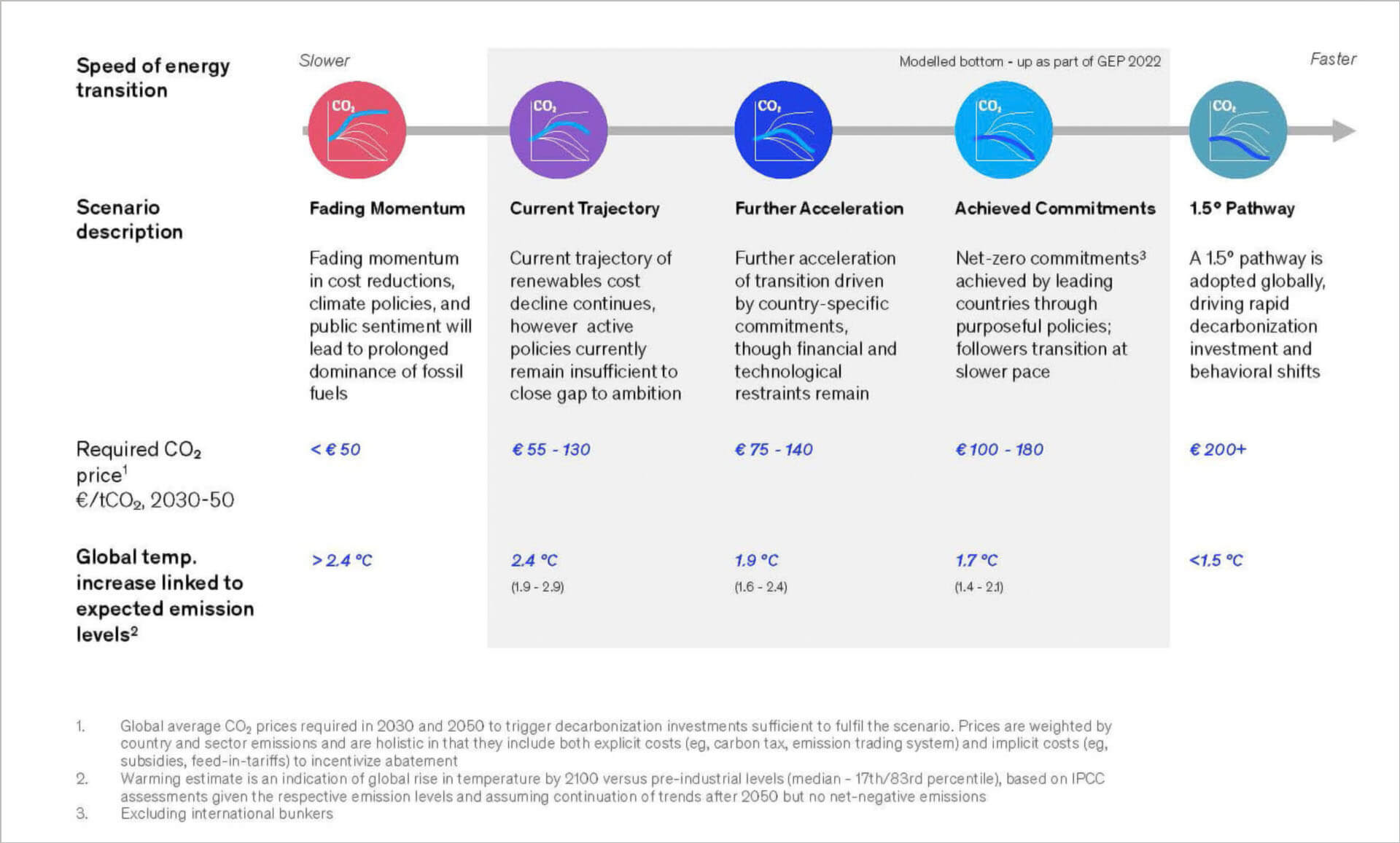 Fig 1: Five energy transition scenarios centred around pace of technological progress and level of policy enforcement
Source: McKinsey Global Energy Perspective report 2022
*Between Current Trajectory and Achieved Commitments scenarios