Info!
UPDATED 1 Sept: The EI library in London is temporarily closed to the public, as a precautionary measure in light of the ongoing COVID-19 situation. The Knowledge Service will still be answering email queries via email , or via live chats during working hours (09:15-17:00 GMT). Our e-library is always open for members here: eLibrary , for full-text access to over 200 e-books and millions of articles. Thank you for your patience.
New Energy World

embraces the whole energy industry as it connects and converges to address the decarbonisation challenge. It covers progress being made across the industry, from the dynamics under way to reduce emissions in oil and gas, through improvements to the efficiency of energy conversion and use, to cutting-edge initiatives in renewable and low carbon technologies.
World-first hub for flying taxis opens in UK
27/4/2022
Photo: Urban-Air Port/Supernal
Photo: Urban-Air Port/Supernal
Urban-Air Port has opened in Coventry, UK, what is claimed to be the world's first demonstration of a fully-operational hub for future electric vertical take-off and landing (eVTOL) vehicles – such as air taxis – and autonomous delivery drones, to demonstrate the potential of advanced air mobility.
Backed by the UK government and supported by US smart mobility service provider Supernal, the Air-One hub will demonstrate how advanced air mobility can cut congestion and air pollution and support a zero carbon future, integrated with electric vehicles (EVs) for sustainable public transport.
The project is a blueprint for more than 200 sites planned by Urban-Air Port worldwide over the next five years, including in the West Midlands and London, UK, and internationally in the US (Los Angeles), Australia, South Korea, France, Germany, Scandinavia and south-east Asia.
The advanced air mobility (AAM) market is set to take off, with forecast growth of 9%/y to reach $1tn within the next two decades, says Urban-Air Port. Despite a booming market and a strong pipeline of eVTOLs entering commercial operations this decade, the lack of ground infrastructure remains one of the single biggest barriers to growth, according to analysis by NASA.
In response to this, the Air-One 'vertiport' aims to demonstrate how purpose-built ground infrastructure can unleash the potential of AAM to decarbonise transport and cut air pollution and congestion, whilst providing seamless passenger journeys and deliveries. The hub will showcase aircraft command and control, eVTOL charging, cargo loading for unmanned drones, and will host demonstrator flights. The site will also host charging infrastructure for other modes of electric transport, including EVs from some of the world's most well-known automotive brands.
The vertiports are designed to be highly flexible, catering to four different markets – passenger air taxis, autonomous delivery drones, disaster emergency management and defence operations and logistics. They can even be deployed at short notice to enable drones and other eVTOL aircraft to collect and transport emergency supplies, equipment and people in disaster situations such as floods or earthquakes and can be operated completely off-grid using on-site hydrogen fuel cell, zero emission generation, comments Urban-Air Port.
The company plans to generate revenue through an infrastructure-as-a-service model, enabling customers to decide the level of service they require. This can include simply purchasing infrastructure, through to a full-service offering that includes site-specific design development and ongoing operations and maintenance for ground, air and digital infrastructure solutions.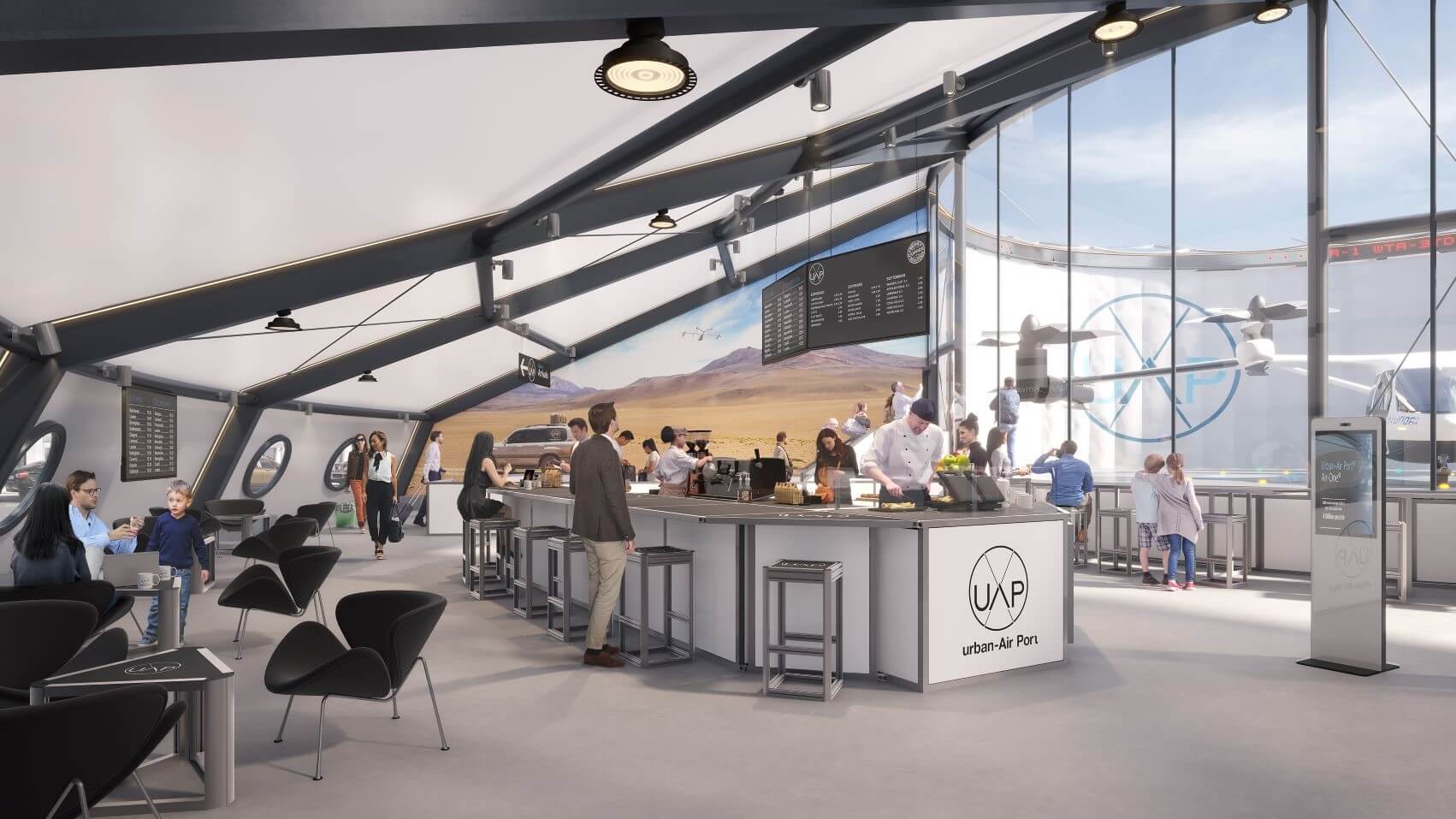 Artist illustration of vertiport lounge
Source: Urban-Air Port